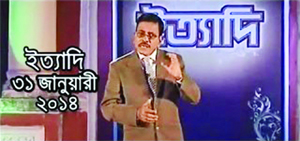 Bangladesh Musical Bands Association (BAMBA) is going to organise a three-day Rock Festival at Jamuna Future Park in Bardidhara in the city o n the occasion of Eid-ul-Fitr.
A total number of 24 bands, divide into three groups, with eight bands in each group will perform each day in this festival. Starting at 5 pm, the concert will be continued till midnight. Jamuna TV will telecast the whole arrangement live. Bands to perform at BAMBA's Rock Festival are Souls, Feedback, Renaissance, Nagarbaul, Miles, LRB, Maqsud O Dhaka, Obscure, Warfaze, Dalchhut, Prometheus, Arthohin, Cryptic Fate, Shironamhim, Metal Maze, Power Surge, Mechanics, Nemesis, Arbo Virus, Radio Active, Beduine, Nagorik, Dreek and Dark.
Hamin Ahmed, vice president, BAMBA said, "Different types of concerts at different times have been organised by BAMBA, but this is for the first time we are going to organise a Rock Festival on the occasion of Eid,  the biggest festival for the Muslims, to add colours  of the festival".
Ittyadi on BTV
Meanwhile,  popular TV magazine show Ittyadi come up with the highest number of patriotic songs in its  Eid special episode.
It always comes with a barrage of surprises and there is no difference to this trait this year as well. Hanif Sanket and his Fagun Audio Vision team have already done the shooting for this grandiose episode of Ittyadi.
As part of Hanif Sanket's relentless effort to push the envelope, this year's Eid special Ittyadi has a patriotic number sung and performed by as many as nine eminent singers of the country. Sabina Yasmin, Andrew Kishore, Samina Chowdhury, Shakila Zafor, Shuvro Dev, Nakib Khan, Fahmida Nabi, Bappa Majumder and S I Tutul have crooned this exclusive patriotic number, which is composed by Ali Akbar Rupu and penned by Mohammad Rofiquzzaman.
Eid special Ittyadi is sponsored by Keya Cosmetics Limited and will be broadcast on BTV on the second day of Eid at 10:30 pm.
Source: Weekly Holiday