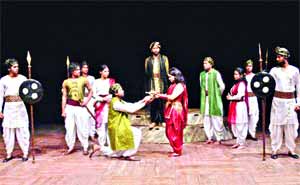 The first-ever theatre festival based on plays by Kazi Nazrul Islam concluded  on Tuesday  at   Bangladesh Shilpakala Academy.  It  successfully   kindled  greater interest in National poet's  theatre works among theatre practitioners.
The three-day event was inaugurated by Simin Hossain Rimi, a member of the parliamentary standing committee on cultural affairs ministry, Eminent Nazrul researcher Anupam Hayat spoke as special guest on the occasion while BSA director Jahangir Hossain Chowdhury delivered welcome speech at the programme.
The festival featured four plays, either written by Nazrul or inspired by his works, by five troupes with two staging the same play. Theatre students of three public universities Jahangirnagar University, Rajshahi University and Jatiya Kobi Kazi Nazrul Islam University, among other troupes, are taking part in the festival.
Speaking  at   the  inaugural session,  Liaquat Ali Lucky , DG  of  Shilpakala Academy  said  'Nazrul was a theatre and pala artiste among other things. But hardly many people seems to be unaware of that. We want to promote this particular side of Nazrul through our programmes,' said Lucky, adding that the academy has plans to organise the festival every year.
The inaugural session was followed by the staging of Nazrul's three-act play Shilpi by the theatre department of Rajshahi University. The pay, directed by Arif Haider, depicts story of an artist faced with the dilemma of choosing between his passion and family commitments.
On the second day on Monday, the theatre department of Jatiya Kobi Kazi Nazrul Islam University and Loko Natyadal (Siddheswari) respectively staged Setubandha and Shilpi. Setubandha depicts mankind's desire to hold sway over the nature and the dire consequences of that desire. The characters of the play are natural elements like storm, water, river, tree and mountain – presented through shadows. Loko Natyadal's play Shilpi, which was also staged by Rajshahi University the previous day, was directed by Farhad Zaman Palash.
The festival concluded on  Tuesday  with the staging of Roti Arotir Kabya and Droho Prem Nari, respectively by the drama and dramatics department of Jahangirnagar University and the theatre troupe Prangonemor. Roti Arotir Kabya, adapted and directed by Anan Zaman from Nazrul's short story Sapure, explores conflicting human emotions and sheds light on the conflict between man's divine aspiration and his carnal desire. Prangonemor staged  its Droho Prem Nari which is based on Nazrul's lyrical drama Aleya. Directed by Ramij Raju, the play depicts the love story of a king and a queen of two neighbouring states and shows that it is love rather than war that wins in the long run.
Source: Weekly Holiday