The venture named as Tau Bangladesh will buy minority ownership of the large textile companies in the country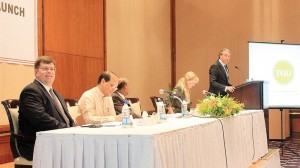 Tau Investment Management, a New York-based growth-equity venture investment firm, has launched a venture worth $200m in Bangladesh.
The venture named as Tau Bangladesh will buy minority ownership of the large textile companies in the country.
A launching ceremony was organised at a hotel in the capital yesterday.
The fund to be injected is aimed at improving the value-chain of the companies through upgrading and de-risking supply chain.
Further, the venture intends to make the companies international standards in terms of being socially responsible and compliant.
"We are investing to help build few companies to become stronger strategic suppliers due to which incremental revenue are expected to be generated," said Oliver Niedermaier, CEO of Tau Investment.
He, however, expressed his concern that in the near future the number of companies within the industry may fall.
To a question of president of Bangladesh Garment Manufacturers and Exporters Association (BGMEA) Md Atiqul Islam on what can be done to help out the medium and small factory owners, the CEO replied the fund is flexible and they may review their strategy for making some investments in the medium size companies as well.
The fund $200m is a portion of a billion dollar fund seeking to change the global supply chain.
The fund named Tau Transformation Fund will target textile and apparel manufacturers in emerging markets.
"We are ready to invest $20m to $50m in a few garment makers that will generate over $100m annual sales and make the companies avail world-class expertise along with access to low-cost financing sources in order to create increased profitability," said Oliver to the Dhaka Tribune on the sidelines.
Tofail bashes US for continuing GSP suspension
Commerce Minister Tofail Ahmed urged the United States to cut tariff on Bangladeshi RMG exports at the event referring to high tariff of over 16% that the country has been paying to US.
He said the high tariff is preventing Bangladesh apparel from being competitive in the US market while being as one of the least developed countries, Bangladesh was supposed to enjoy zero-tariff benefit from the US.
"We will welcome a free market in the US just as we welcome this wonderful initiative of Tau Investment in Bangladesh."
On a similar note, Bangladesh Bank Governor Atiur Rahman welcomed the initiative that has a similar agenda of the central bank as well.
Jon Danilowicz, deputy chief of mission, US embassy in Bangladesh also spoke at the function.
Source: Dhaka Tribune