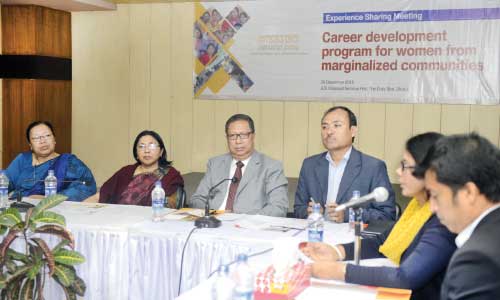 Rights activists on Sunday said that members of national minority communities, the female members of the communities in particular, living in the hills and the plains needed occupational skills training for employment.
They made the observation at a meeting organised by rights organisation Manusher Jonno Foundation at the daily Star building in the city for sharing experiences of participants in a career development programme.
'Two-thirds of the total ethnic minorities are inhabitants on plain lands and all of the ethnic minorities need occupational skills training,' said Chittagong Hill Tracts affairs secretary Naba Bikram Kishore Tripura.
Indigenous Peoples Development Services chairman Sanjeeb Drong said that state did not ensure equal opportunities for all and that was why they had to initiate the career development programme for marginalised people.
National Human Rights Commission member Nirupa Dewan said that the ethnic minority people might show their ability if they got opportunity.
Manusher Jonno Foundation executive director Shaheen Anam said that 90 female graduates from marginalised community were given occupational skills training under the career development programme of the foundation since 2010.
She said 80 per cent of them women trained were now working at different organisations.
Programme director Shamim Imam, its consultant Amitabha Bhattacharjee and participants in the programme also spoke at the meeting.
Source: New Age