Art weekend held at seven embassies
Ambassadors of Brazil, Denmark, Germany, the Netherlands, Norway, Switzerland and High Commissioner of Canada hosted a joint art weekend 2016 on May 27-28 at their respective residences.
The weekend largely highlighted and exhibited the works of Bangladeshi artists. The aim was to build bridges between the Bangladeshi art scene, the international community and art lovers of Bangladesh. The art weekend provided an opportunity for both promising talents and established artists to exhibit their works for a select audience.
Danish Ambassador Hanne Fugl Eskjær exhibited 15 artworks by Kanak Chanpa Chakma and the 10 paintings by late Khalid Mahmud Mithu. The event also featured 117 works by Sukanta Banik, who specialises in wax sculptures.
"In terms of depth, dynamism, theme and quality, Khalid Mahmud Mithu's works are more precious than mine. But, his works were not highlighted as much as I got praised. But I know very well how energetic and passionate he was and how clearly he revealed his artistic conscience along with what he depicted. With his untimely demise, everything was disturbed," lamented Mithu's widow Kanak Chanpa Chakma.
"Bangladesh art will get a boost through this noble initiative of the embassies. I hope this initiative will continue in coming years and more embassies will join in organising art weekends," she added.
Assuring more such art weekends in the coming years, Danish Ambassador Hanne Fugl Eskjær said, "One of my friends took me to Dhamrai and showed me the very unique cultural heritage of Bangladesh, along with the process of making the lost wax technique and beautifully pasted sculptures. Since then, I have been to Dhamrai many times. I really felt that this is a part of Bangladeshi culture I would like to showcase to all Bangladeshis so that they can be proud and protect it."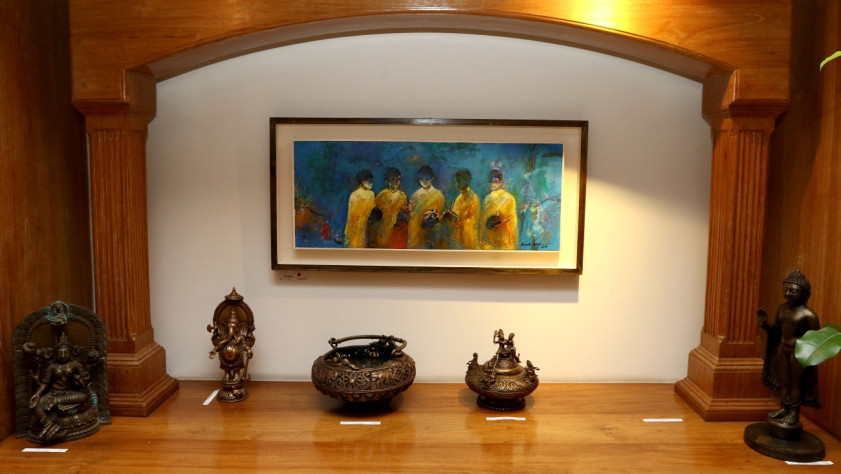 Eminent personalities,  including Dr Shirin Sharmin Chaudhury, Speaker of the National Parliament; Mahfuz Anam, Editor and Publisher of The Daily Star and Anjan Chowdhury of Square Group, attended the beautiful art weekend.
Source: The Daily Star