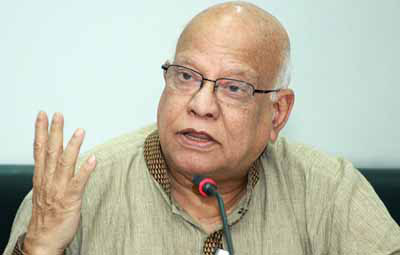 Finance Minister AMA Muhith has said reports in all newspapers about the issue of legalising black money in the budget are "utterly nonsense."
The minister made the statement while talking to reporters at the Economic Relations Division (ERD) office in the capital's Sher-e-Bangla Nagar on Tuesday.
Muhith said it's a law that those who have undisclosed money will have to pay fine.
"So, your [media] whole statements in all the newspapers are utterly nonsense," he said.
The minister said the real estate sector would get the opportunity through the payment of fine as per law.
Finance Bill 2014, which was passed in the parliament on Saturday, retained the provision for legalising undisclosed money in productive and income-generating sectors through payment of 10% penalty and the regular 25% tax.
Finance Minister AMA Muhith has said multiple times before and after announcing the proposed budget earlier this month that the provision is no good as it never lived up to the revenue expectations.
Undisclosed money stands for the money, wealth or property that individuals and organisations have not included in their tax returns. The idea is that the government will not grill anyone if they took advantage of the provision.
Source: Dhaka Tribune