Syed Bashir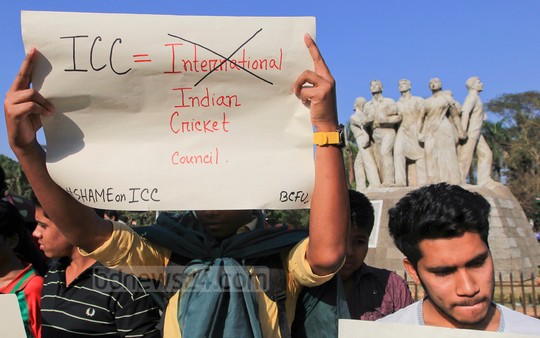 Bangladesh has very strong reasons to feel let down by some horrible umpiring.
It is true batsmen always get the benefit of the doubt in cricket. But with so much advanced technology in place, why should umpires in doubt avoid referring the decision to a TV umpire?
Aleem Dar did not seem to have any doubt about Rubel's delivery being above waist when it was clearly not, and Ian Gould got carried away by his decision and did not refer up, which he should have.
If Rohit had left at that stage, India would have surely been restricted to under 300, perhaps even below 280. This means the Tigers would have come out under lesser pressure and hopefully not thrown their bats at everything. Dhoni was not at his best and runs were not really flowing from his bat.
The Indian cricket fraternity has been fair and not driven by other considerations in ruling that Rohit Sharma was out. From Sunil Gavaskar to Sourav Ganguly to VVS Laxman, there is not a single former cricketer who has defended the decision. They said Rohit was out, well and true.
I just wonder whether Bangladesh could have appealed against the umpire's verdict and sent the case to the TV umpire. I am not sure of the new rules but if they could, Mortaza should have asked for review. If the review had also gone against Bangladesh, there would be strong reasons to suspect foul play. Not otherwise. If there was scope for review, why had it not been exercised?
Aleem Dar is from Pakistan and for the sake of argument he has no good reason to favour either Bangladesh or India if he is a blue-blooded Pakistani.
But even 303 wouldn't have been unattainable for Bangladesh had their in-form batsmen applied themselves.
Excepting Imrul Kayes, all the top order Bangladesh batsmen easily got into their twenties and threw their wickets away. Had at least two of them stitched together a partnership, as they have done in past matches against England and New Zealand, India would have felt the heat of a chase. Indian bowlers have bowled with tact and discipline but none of them have looked unplayable. So I would blame the Bangladesh top order for throwing the match away.
Despite being at the receiving end of very poor umpiring, Bangladesh could have made a match of it if Mahmudullah, Soumya Sarkar, and Mushfiqur Rahim scored half centuries. They needed to apply themselves and build partnerships – two good partnerships would have carried Bangladesh real close to the Indian total, and it could have been anybody's match. Shakib was clearly not in his element, and Tamim showcased too much of a hit-and-miss variety.
Now about the ICC president's reactions, if he has reasonable suspicion that match fixing had occurred he should use his powers to order an inquiry, or even resign his position if he cannot have his way.
However, he has no business to react so strongly off -the-cuff, and then proclaim that his statements were made as a 'fan'. That is downright irresponsible since he commands all the headlines as the ICC president, and his assertions are not necessarily regarded as those made by a 'fan'.
The question lies in whether he is trying to play a political card, and many will have good reason to ask. Many may suggest that this is a smart way of proving nationalist credentials when under fire.
As one commentator in bdnews.com has previously said, it is natural to feel sad but there is no good reason to go mad over the defeat.
The Tigers were beaten, but not disgraced. With a bit of luck they would have done better. This was their best ever performance in the World Cup and Mashrafe Mortaza and his boys deserve all the credit. Bangladesh would go places if true nationalists like Mashrafe were brought in to run the nation, and those who are now running seeking cheap mileage from sports, are banished.
Syed Bashir is a bdnews24.com columnist.
Source: bdnews24