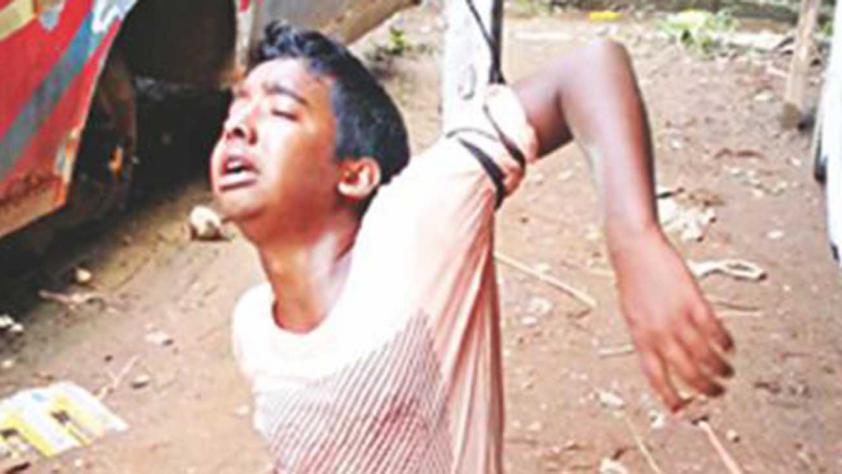 Moyna Mia, an accused in the Samiul Alam Rajon killing case, has confessed to torturing the 13-year-old on July 8 at Kumargaon Bus Stand area of Sylhet for "trying to steal a rickshaw".
Moyna made the confessional statement before a magistrate in Sylhet yesterday.
Several men beat Samiul Alam Rajon to death on July 8. They also taped it and uploaded on the internet sparking huge public outcry.
Police arrested Moyna at his home in Pirpur area of Tukerbazar in Sylhet with the help of locals on July 14. The next day, a court granted police a seven-day remand for interrogating Moyna.
Earlier, Akhtar Hossain, officer-in-charge of Jalalabad Police Station, had said Moyna caught Rajon and tied him to an iron bar and called in Kamrul Islam.
Kamrul reaching the spot started beating up Rajon. Later, Kamrul's brothers, including prime accused Muhith Alam, joined in.
After Rajon's death, Moyna and others took Rajon's body to Kumargaon residential area where locals caught Muhith, the OC said. The others managed to flee, he added.
Muhith during interrogation has also confessed his involvement, sources said.
Muhith had told police that six people were involved — himself, his three brothers Ali Mia, Shamim and Kamrul Islam; security guard Moyna Mia and their relative Dulal Mia.
OC Akhtar Hossain said Muhith gave important information on the murder but they were not making it public for the sake of investigation.
He said fresh remand for Muhith could be sought if he did not make a confessional statement before a magistrate.
At least 11 suspects, including four accused, were detained in connection with the killing.
Accused Kamrul was detained in Saudi Arabia.
State Minister for Home Asaduzzaman Khan said Kamrul would be brought back to Bangladesh to stand trial in the Rajon killing case. "Our foreign ministry is working on this," he said.
Meanwhile, Finance Minister AMA Muhith visited Rajon's family on Eid day and promised Tk 5 lakh financial assistance.
Source: The Daily Star