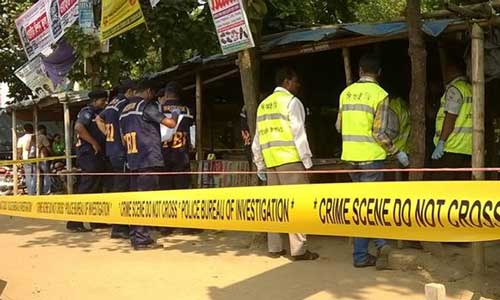 Unidentified assailants hacked a policeman to death and seriously injured another one at Baraipara of Ashulia on Nabinagar-Chandra highway on the outskirts of Dhaka on Wednesday morning.
The victim was identified as Mukul Hossain, a constable of industrial police, and the injured is Nur Alam.
Industrial police acting director Kawser Sikder told New Age that five police constables of industrial police were preparing to begin their duty at a check-post near Nandan Park and the attackers all of a sudden swooped on them leaving Mukul and Nur Alam injured at around 7:30am.
Mukul was pronounced dead by physicians at Enam Medical College Hospital in Savar. Nur Alam also admitted to the hospital and his conditions were stated to be critical.
There were marks of injuries by machete and knives on Mukul's neck and head. It seems a planned attack,' he said.
Kawser said they were interviewing the other three constables who survived the attack.
'We are yet to know how the attackers came and fled. After interviewing witnesses we will be able to inform you,' he said.
Acting inspector general of police, Javed Patwari, visited the place of occurance in the afternoon. He said the murder had resemblance with the killing of sub-inspector Ibrahim Molla at Gabtali. 'The pattern indicates it was a planned killing,' he said adding that the police were not sure whether that attack had any militant link.
In a similar attack on October 22, police sub-inspector Ibrahim Molla was hacked to death at a check-post at Gabtali bus terminal in Dhaka.
Police also came under attack at Ghatura of Brahmanbaria on Tuesday night. Criminals opened fire on a police van as police asked a speeding vehicle to stop. While chasing the vehicle, the police van overturned leaving two constables — Shankar Chandra Nath and Ariful Islam —injured.
Source: New Age