Prime Minister Sheikh has left for the United States to attend the 69th United Nations General Assembly (UNGA).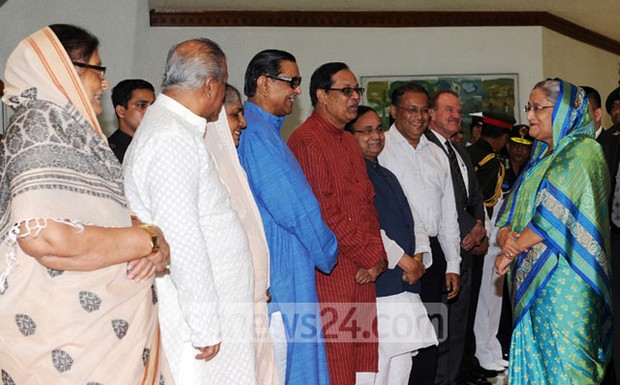 An Emirates Airlines flight carrying the prime minister and her entourage took off from Shahjalal International Airport at 9:45pm on Sunday.
After a two-hour stopover at Dubai, she is scheduled to reach New York around 8:30am (local time) on Monday.
Her visit will officially begin when she will attend the inaugural session of the Climate Conference 2014 on Sept 23.
She is expected to return home on Oct 2.
Besides attending the UNGA on Sept 24, she will address it on Sept 27.
Hasina will hold her first meeting with Indian Prime Minister Narendra Modi that day on the sidelines of the UNGA.
The same day the prime minister will attend and address the Global Citizens' Festival at the Central Park in New York.
She will also have bilateral meetings with Belarusian Prime Minister Mikhail Myasnikovich, Qatari Emir Sheikh Tamim Bin Hamad Al Thani and Nepalese Prime Minister Sushil Koirala.
Hasina will also join a reception to be hosted by US President Barack Obama and Michelle Obama, another reception and luncheon hosted by UN Secretary General Ban Ki-moon.
Hasina's over 150-member entourage includes several ministers, advisers, businessmen, journalists and other government officials.
Source: bdnews24