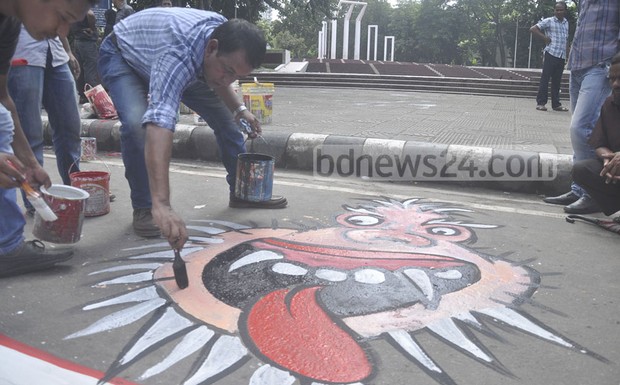 Dhaka University (DU) authorities have turned down the plea to take the mortal remains of controversial TV commentator Pias Karim's to the Central Shaheed Minar.
DU Proctor-in-Charge Amzad Ali told bdnews24.com on Wednesday that an organisation named Muktijoddha Sanshad Santan Command had already sought permission for programmes at the Shaheed Minar on Thursday and Friday. Authorities have granted the permission.
"Before securing our permission, Piash Karim's family informed the media that the body will be brought to Shaheed Minar. There is nothing about giving permission or taking liability for it," he said.
The late commentator's brother, Lotus Karim, however, had said earlier that they would drop the plan if 'security was not ensured' amid protest from the university's student organisations.
"Our plan is to take his body to the Dhanmondi residence from the hospital on Friday. Then it will be taken to the Baitul Mokaaram Mosque for the funeral prayers before the burial at Banani graveyard," Lotus Karim told bdnews24.com on Wednesday.
Piash Karim, who taught at BRAC University's Department of Economics and Social Science, died of a cardiac arrest on Monday.
Originally from Comilla, he shot into limelight for his performance on television panel discussions.
Karim faced considerable flak for criticising the mass uprising in Shahbagh demanding maximum punishment for war criminals. He was widely criticised for his controversial remarks over the trial processes of the International Crimes Tribunal.
Protest from different quarters, including the Ganajagaran Mancha, erupted after Karim's family announced that the body would be taken to the Shaheed Minar so that mourners can pay their respect. The social media was also flooded with comments on the issue.
An application, seeking the permission to keep his body at the Shaheed Minar, signed by his wife DU teacher Amena Mohsin was sent to the DU authorities on Tuesday, according to Lotus Karim.
Meanwhile, the BNP has announced mourning programmes on Friday. In a statement the party too had mentioned about keeping Karim's body at the Central Shaheed Minar for 'last respects'.
A group of angry artists have painted the street near Shaheed Minar in protest.
They painted caricatures of 'Razakars' or the local collaborators of the Pakistani occupational forces during the 1971 Independence War.
"The sacred Shaheed Minar will not have the body of a (Pakistani) agent, take it to Pakistan" – it was written on the north steps of the memorial on Tuesday.
Another banner read, "The sacred Shaheed Minar will not bear the body of Razakar's son Piash Karim; stop this, Bangladesh."
Amid the furore over the issue, Karim's family said on Wednesday they would drop the plan if security was not ensured.
"We will not go there, if enough security is not ensured," Lotus Karim told bdnews24.com.
Asked if Karim's body was taken to the Shaheed Minar without the DU's permission, Proctor Amzad Ali said: "Since we do not have any security force of our own, we will inform the law enforcing agencies. They will do whatever needed to be done."
Source: Bd news24