Cultural Correspondent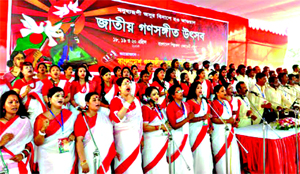 Bangladesh Shilpakala Academy jointly with Bangladesh Ganasangeet Samanway Parishad organized a three-day people's song festival at the Academy's open space last week. 
The performances during the festival featured recitation dance and timeless people's songs in group and solo presentation. 
The powerful lyric and soothing composition of classics in people's song genre created a joyous atmosphere in the venue, which was packed with audience every evening since Friday.
 The big attraction of the inaugural evening was chorus presentation of songs. Powerful voices of hundreds of artistes took the audiences on a journey of musical brilliance.
Swabhumi Lekhak Shilpi Kendra presented the evergreen songs Mayer Deya Mota Kapar Mathai Tuley Ne Re Bhai and Banga Amar Janani Amar in a chorus consisting of about 100 singers. The chorus's another performance of Amar Pratibader Bhasa received loud applause from the crowd.
Kranti Shilpi Goshthi presented Kazi Nazrul Islam's evergreen song Durgam Giri Kantar Maru while the singers of Drishti rendered Lakho Shaheed er Rakter Binimaye. Sylhet Ganasangeet Dal of Hindu Muslim Bouddha Khristan presented Joy Hok Banglar Joy Hok and Ekkattorer Khuni Jara at the programme.
The people could feel the vigour of people's song while the artistes of Banhishikha danced to some beautiful songs including Banglar Hindi Banglar Buddho, Sona Sona Sona Lokey Bole Sona and others.
Noted singers Abdul Jabbar, Nilufar Babu Lily, Fakir Mahbub Morshed and others presented solo songs in the programme which also featured recitation by Jharna Sarkar and Rafiqul Islam.
Earlier, a discussion session was held where minister of cultural affairs Asaduzzaman Noor inaugurated the programme as chief guest. Nasiruddin Yousuff, president of Sammilita Sangskritik Jote, and Sujoy Shyam, noted musician of Swadhin Bangla Betar Kendra, were also present at the programme as special guests.
Source: Weekly Holiday