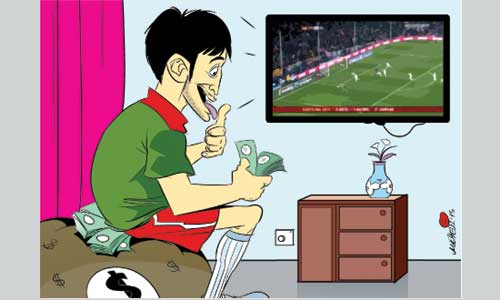 One of the reasons that came to the discussion for Bangladesh's failure in the ongoing SAFF Suzuki Cup is players' apparent lack of focus in the tournament.
With the inter-club transfer just round the corner it was alleged that the players were busier in negotiating with their respective clubs than concentrating on the job in hand.
The issue haunted the Bangladesh football team since their World Cup qualifier against Australia when a club defied Bangladesh Football Federation to force at least 10 players to sit for negotiation a day before the game.
The concerned club was worried as a number of their rivals are out to buy players with bagful money that was previously unheard.
Football insiders said players also fell to the trap and started counting money without bothering about if they are at all worth of it.  New Age found that Bangladeshi players, who failed agonisingly in the field, get more money than many of their successful South Asian counterparts.
It was found that the wage of the Bangladeshi players is augmenting but their performance in the international level is almost becoming counter-proportionate with that.
Bangladesh captain Mamunul Islam earlier told media that he was offered Tk 50 lakh by the multiple clubs and there is a chance he can settle with more money. It will take his monthly income to $6250, much higher than other South Asian players.
Most of the senior players in the current squad like Jamal Bhuiyan, Nasiruddin Chowdhury, Zahid Hossain, Atiqur Rahman Meshu, get from $5000 to $5500 per month.
Some young players like—Sohel Rana, Hemanta Vincent Biswas, Yeasin Khan, Rayhan Hasan, Shahidul Alam Sohel, Yeamin Ahmed Chowdhury, Shakhwat Hossain Rony—get more than $4500 per month.
Even striker Nabib Newaz Jibon is going to get a lucrative amount in the next season after getting a chance in the national team.
One of the finest players in the South Asian history, Maldives' Ali Ashfaq recently renewed his contract with Malaysian Premier League champions PDRM FA for next two seasons with a $17000 deal but the average salary of the other national players from the country is not more than $1200, according to the islanders.
'The average wages of Maldives players' are not more than $1200 per month and they have to make a year-long contract with the clubs,' Azam Ali, a Maldivian sports reporter of maldivesfootballonline.com.
'They have to play at least 14 league matches and three tournaments round the year.'
India's talismanic striker Sunil Chhetri received $16500 per month from I-league outfit Bangaluru FC but eight of his junior team-mates, who have recently joined the national team, earns around $2500 per month, a much lesser sum than a mediocre Bangladeshi player earns.
'Except Chhetri [Sunil], few senior players like—Mehtab Ahmed, Gouramangi Shing, Jeje gets not more than $6000 from I-league,' Indian team's official Nilanjan Dutta said.
'Some new players like—Narayan Dus, Protim Kotal, Pronoy Halder, Gurpreet Singh, Romio and Hari Charan's average salary is not more than $1500 and they didn't get enough chance to play in the starting XI due to foreign players.'
Nilanjan said that the Indian players now are getting some extra amount after the All India Football Federation introduced the franchise-based tournament ISL.
Afghanistan are the reigning champions of SAFF Championship and also the top contenders for this edition.  The players who are playing in the Roshan Afghan Premier League get only $300 per month and even their foreign-based players' average salary is in between $4000 to $6000 per month.
Ali Asker Lali, technical director of Afghanistan Football Federation, said that the salary structure of the Afghan-based players is very poor.
At least eight players of the Afghan side, who are based in their domestic league, do not earn more than $300 per month, he said.
Rohit Chand, the best defender of Nepal, is now the highest player in the Himalayan kingdom as he joined Indonesian club Persija Jakarta but he also make just $3000 in a month.
Bhutan's highest paid player Chencho Gyeltshen, who plays for Thai side Buriram United, is getting monthly salary of $1000.
'Actually Bhutan Football Federation is recently paying a few number of players $160 per month as salary,' said the top scorer of Bhutan.
'I'm the first Bhutanese player to play in Thai league and my team is providing me $1000.'
Bangladeshi players do not have to be content with just their club salary as they also earn a large sum through playing unauthorised matches and tournaments in district level, locally known as 'khep'.
In the last season, the top players also earned an attractive amount by playing in the maiden Sheikh Kamal International Club Cup tournament in Chittagong.
Bangladesh got thrashing from Afghanistan and Maldives by 4-0 and 3-1 respectively to be eliminated from the first round of the three consecutive times.
Bangladesh, who earned just one point from their eight matches of the last year's World Cup qualifier, had remained winless for six years in the SAFF before they beat a weak Bhutan side.
Source: New Age