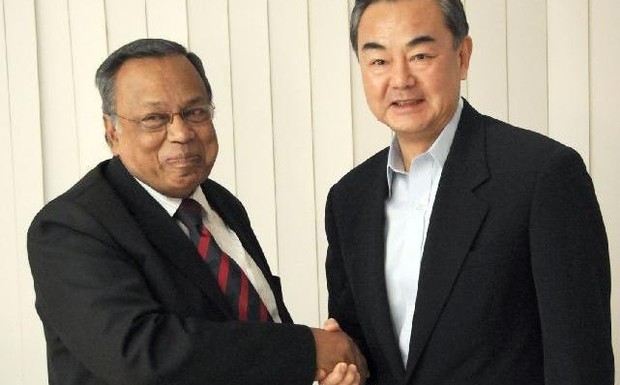 It is "only friendship and cooperation", he reportedly told his Bangladesh counterpart Abul Hassan Mahmood Ali when both leaders met on Sunday, a Chinese television reported on Monday.
Yi, who would leave Dhaka on Monday afternoon ending his three-day maiden visit, also vowed "to expand practical cooperation and people-to-people exchanges".
His visit followed Prime Minister Sheikh Hasina's June visit when both sides agreed on a number of deals in which Beijing would invest to take the relations to "a new height".
He also discussed the joint celebration of the 40th anniversary of diplomatic ties between the two countries next year, during the long bilateral talks at the foreign ministry.
He also reiterated China's interest in building a deep-sea port in Bangladesh.
It was not clear on what context the visiting foreign minister made the comment of "no historical disputes and conflicts", but it was clear that he promised to help Bangladesh in many ways.
He said China was ready to share its "advanced experience and expertise" in agricultural production, sci-tech and mechanics.
He also conveyed that China stands ready to help Bangladesh train management personnel, increase investment and help Bangladesh develop its electricity networks.
China would invite 100 young Bangladeshis to visit the country next year and would provide 160 scholarships to Bangladeshi students. It will also help train 100 Bangladeshi Chinese teachers.
Sino-Bangla relations can be historically traced even two thousand years back.
But in 1971, when Communist China was yet to undergo reforms and open up to the world, opposed Bangladesh's independence from Pakistan, mainly because of its close ties with Pakistan.
It had also cast its veto in the Security Council to block new Bangladesh's entry in the United Nations.
It recognised Bangladesh months after the assassination of father of the nation Bangabandhu Sheikh Mujibur Rahman in Aug 1975.
But successive governments cultivated the relations.
Current President Xi Jinping told Sheikh Hasina during her visit in June that his country wanted a better strategic relationship with Bangladesh.
He had said the ties between the countries were historical and recalled Bangabandhu Sheikh Mujibur Rahman's visit to China in 1952.
Beijing has taken 'China-South Asia policy' as it calls 2014 "the beginning year of China's comprehensively deepening reform era".
Before coming to Dhaka, foreign minister Yi told Nepalese leaders in Kathmandu that China considered Nepal as a bridge between India and South Asia.
And he urged Bangladesh to act as a bridge between South and Southeast Asia during his meeting with Prime Minister Sheikh Hasina on Sunday, her Press Secretary AKM Shamim Chowdhury later told reporters.
Dhaka is expecting either the Chinese President or Prime Minister to visit next month during the joint celebration of a diplomatic bonhomie.
Source: bdnews24