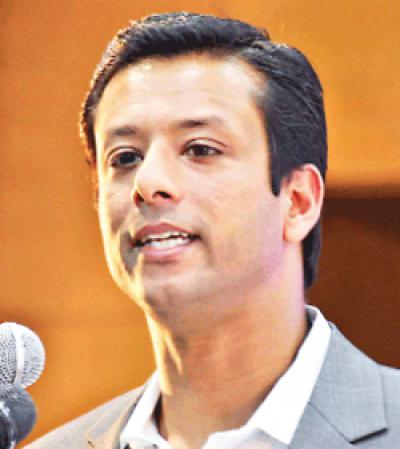 The prime minister's ICT adviser Sajeeb Wazed Joy on Friday ruled out possibility of any dialogue with what he called terrorist elements like IS in Iraq and Syria.
Instead, he warned of dire consequences of violent demonstrations for which he blamed the BNP and Jamaat-e-Islami.
The prime minister's son was addressing a discussion on 'Terrorism vs Politics' organised by 'Suchinta Foundation' at Lakeshore Hotel.
"No dialogue will be held with those who are engaged in terrorist activities the way Islamic State militants do (in the Middle East)," Joy said.
He questioned sanity of those who advocate a dialogue to resolving the current political crisis. "Those who talk about dialogue are nothing but insane," he said.
He issued the note of warning on the BNP-Jamaat alliance for violence and attacks during the blockade and hartal programmes.
"Let me warn you to stop here. Otherwise, the police will attack you. I ask you stop here or else we will catch you, be it alive or otherwise," Joy said.
He maintained that it is the duty of the government and the police to provide security to the people. "It's not a matter of right but duty of the police to stop at any cost the ones who would kill people," he added.
Former vice chancellor of Chittagong University Prof. Abdul Mannan, journalist Abed Khan, cultural personality Enamul Haque and singer Mita Haque addressed the discussion chaired by Suchinta Foundation's convenor Mohammad A Arafat.
Source: Prothom Alo