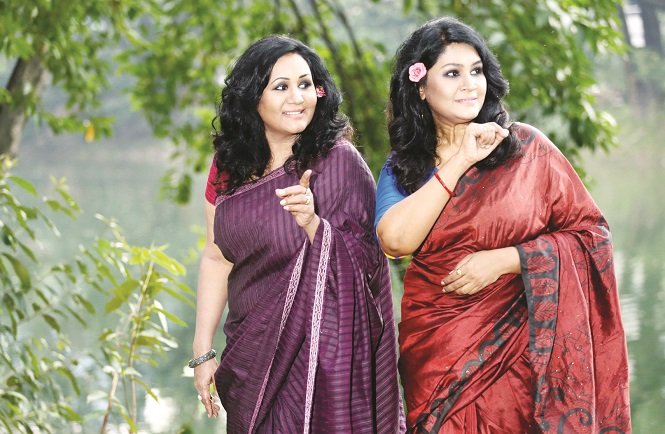 Sister duo Fahmida Nabi and Samina Chowdhury are all set to lend their vocals for a duet album.
Although the sibling duo has been in the music scene for a long time, this is the first time the singing stars are fearing in the same album.
Samina and Fahmida wrapped up the work of their upcoming album this week.
The album will include eight songs in total, four songs each. Composed by Fahmida and Samina's brother Pancham, the lyrics of all of the eight songs are penned by Zulfikar Russel and the music was done by Nachiketa.
Titled 'Ek Akash er Gaan', the much-anticipated album was scheduled to launch on this Eid al-Adha under the banner of Laser Vision. However, as Samina Chowdhury had to fly off to perform Hajj, the work of the album was pushed back. Reports suggest that the music album will launch just after Eid.
Nabi won the National Film Award as the Best Female Playback Singer in 2007 for her song "Lukochuri Lukochuri Golpo" in Bengali Film AHA. She also received Channel i Performance Award in 2008 and Meril prothom alo award 2009. On the other hand, Samina Chowdhury bagged the National Film Award, Bachsas Award and Meril Protho Alo as Best Female Playback Singer.
Source: Ittefaq