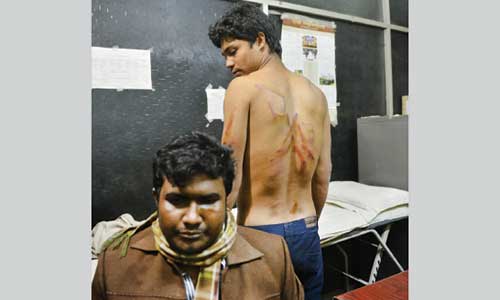 A group of policemen tortured New Age's Dhaka University correspondent Nazmul Huda Sumon and his friend from the university inside Ramna police station following an altercation over riding pillion on motorbike, triggering anger among journalists working on campus.
Nazmul, who also the third year student of political science, and his friend Kayruzzaman Shuvo of the management department, were moved to the university medical centre after Nazmul received stitches for a head injury and both underwent X-rays at the Dhaka Medical College Hospital.
Nazmul and Shuvo said the police, led by subinspector Mehedi Hasan Sumon, took both of them from Bijoynagor intersection to the police station where they were beaten up with rifle butts and boots.
Nazmul said that he was heading towards campus riding his bike, with his friend behind, at about 5:00pm.
The on-duty police stopped Nazmul and asked him to drop the passenger, he said. He showed his identity card and asked them to allow him to go.
Subinspector Mehedi, who was also on a motorbike with a passenger behind, then snatched his ID.
Nazmul tried to take a picture of the policeman himself travelling with a passenger, angering SI Mehedi, Nazmul said 'They beat up us on the road, later took us to the police station and again beat us up.'
'In police custody, some 10 to 15 others beat us up with rifle butts and boots,' he said, adding, 'they also beat us while transporting us on the police van.'
On information, the Dhaka University Journalists Association leaders rushed to the police station at about 8:00pm, rescued them in critical condition and rushed them to the university medical centre.
Subinspector Mehedi Hasan told New Age that they asked them not to ride double on motorbike.
'They were locked in an altercation with the police over the double riding, resulting in passerby's beating them, and we rescued them,' he claimed.
The DUJA secretary Sanaul Haque Sunny in his reaction demanded punitive action against police brutality.
The Raman police station officer-in-charge Mashiur Rahman later in the night visited the injured journalist and his friend in the DMCH premises.
He said that they have already identified the people involved in the brutal act and assured the journalist leaders that necessary actions would be taken.
Source: New Age