Cultural front against violence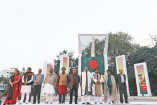 With the theme "Shohingshotar Biruddhe Shongskriti", a weeklong street theatre festival began at Central Shaheed Minar on February 1, marking Sublime Martyred Day and International Mother Language Day (February 21). Information minister Hasanul Haq Inu, gracing the occasion as chief guest inaugurated the festival, organised by Bangladesh Group Theatre Federation (BGTF).
Among others, ambidextrous writer, poet and litterateur Syed Shamsul Haq, eminent theatre personality Mamunur Rashid, noted theatre actor Keramat Mawla, general secretary of Abritti Samannay Parishad Ahkamullah, vice president and general secretary of Shammilito Sangskritk Jote Golam Kuddus and Hasan Arif were present and spoke on the occasion. Renowned actor and theatre activist Lucky Inam read out the declaration for the year. Secretary General of BGTF Jhuna Chowdhury delivered welcome address while Chairman of BGTF and director general of Bangladesh Shilpakala Academy Liaquat Ali Lucky presided over the discussion.
"Culture is uncompromising. It flourishes through struggle against unjust. Culture is not a demarcated lake; it rather flows like streams of river among people and finds its apt place on the pages of history. We have to unmask the evil forces through theatre, music, poetry, fine art, film and literature. There is no alternative of standing upright with consolidated position on behalf of truth, just, humanity and progress as a responsible human being. National Street Theatre Festival pledges to uphold human's emancipation and to face all evil forces with the weapon of culture," said Lucky Inam.
The festival began with the rendition of national anthem. Later, artistes of Dhaka Shangskritik Dol offered "Amar Bhai-er Rokte Rangano Ekjushey February". The audience sang along with the national anthem and Ekusher Gaan. The guests placed a wreath on the altar of Central Shaheen Minar, and a one-minute silence was observed in memory of the martyrs.
Several foreign artistes serenaded to their respective mother tongues at the event. Planned and directed by Aminul Ashraf, members of Mahakal Natya Sampraday showcased a protesting dance titled "Jago", highlighting the recent post-election communal violence and vandalism. Elocutionist Ahkamullah recited a spirited poem while the opening day's performance came to an end with staging a street theatre titled "Koibolyo". Written and directed by Sanjiban Shikdar and Kazi Taufiqul Islam Emon, members of "Opera" staged the street play.
On the second day (February 2) of the festival, members of Muktalaya Natyangan, Brahmanbaria Sahitya Academy, Kheyali Natyagoshthi, Chandrakala Theatre, Aranyak natyadal and Mahakal Natya Sampradaye staged "Ghun", "Chourasta", "Bachar Lorai", "Bhanga Sangbad", "Aguner Dalpala" and "Saper Khela" respectively.
Five productions –"Sunagorik-er Sandhaney", "Shadhinotar Sangram", "Jonom Duhkhi Maa", "Jege Otho" and "Shadhinota Tumi Phirey Esho" –will be staged at Central Shaheed Minar today.
BGTF has also organised street theatre festival at divisional level throughout the month of February.
Source: The Daily Star