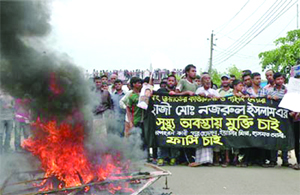 With  the    citizens   passing their  days  in  grave  anxiety and  a feeling  of  insecurity  due  to  alarming  rise  of  killings, abductions and  disappearances, opposition   BNP  has announced  a  mass hunger strike programme to be  observed across the country on May 4.
The hunger strike will be observed between 9am to 6pm on  the  day   to protest against  the growing incidents  of  killing, abduction and  disappearance.
Earlier  on  Monday,  BNP  organized   country-wide  rallies  to  voice  protest against  arrest, torture and extra-judicial killings of party leaders and activists.
Ain O Salish Kendra, a human rights  organization of  the  country  reported  that  in recent times, 16 people fell victim to "forced disappearance," and seven of them were found dead. Around 53 people have been abducted so far this year while 68 in 2013, 56 in 2012, 59 in 2011 and 46 in 2010.
According  to  a  Dhaka  newspaper  report,  3,391 persons  weere  abducted in  last for years,  showing  an average of  two person being  abducted on any given day.
310 BNP men  killed or  disappeared
BNP  Acting  Secretary General  Mirza Fakhrul Islam has alleged that some 310 leaders and activists of  the  party were killed and made to disappear between January 2013 and February, 2014.   He  further alleged  that  the government was implementing a blueprint to keep away party leaders and activists from politics  by implicating them in 'false' cases.
Mirza Fakhrul Islam Alamgir  presented  the data at meeting  held at the National Press Club on  Monday  to protest arrests, harassment and unlawful killing of BNP members.
"Altogether 272 of our leaders and activists were killed by police, RAB and Awami League goons between January 2013 to February 2014. Another 25 disappeared," he said.
He said the BNP leaders  and  workers  were  not  only  the  victims   of   killings and disappearances . "These are being carried out against Bangladeshi nationalism and religion-based politics because  Awami League wanted to remain in power through  autocratic means."
21 victims in Laxmipur
Meanwhile, Laxmipur district BNP  Wednesday claimed that at least 21 activists and leaders of the BNP-led 19-party alliance were subjected to killing and forced disappearance in the last six months in that district since October 26.
Of them, 16 were killed while five fell victim to disappearance by law enforcers and Awami League leaders, said Abul Khair Bhuiyan, the district unit president, at a press conference at  Jatiya Press Club.
The district BNP revealed a list of the 21 victims with their names, addresses and ranks and urged the media and human rights organisations to check the list and create pressure upon the government to stop this oppression on the opposition.
Mentioning the names of Shamsul Islam and Omar Faruk, two BNP leaders of Laxmipur, the district unit president said law enforcers picked Shamsul from the capital's Uttara, and he was found dead in Laxmipur on April 26, while Faruk disappeared from Chittagong on February 4.
Shahiduddin Chowdhury Anee, former BNP lawmaker, alleged that local BNP men had been passing days in panic, as they were facing oppression by both the ruling party people and the administration, and they did not have any place to file their complaints.
"The police arrested our leaders and sent some to jail and other faced cross-fire," he said.
Repression  can not suppress  movement
Mirza Fakhrul addressing a protest meeting at National Press Club.
Meanwhile, BNP vice chairman Abdullah Al Noman on Tuesday warned that the government's 'growing repressive acts' cannot suppress their movement as it will only hasten the Awami League regime's fall.   "It's not possible to suppress a movement with arms and repressive acts in a developing country.
The more you (govt) will resort to killing, forced disappearance, repression and arrest, the greater pace our movement will gather to ensure your fall," he said  in a strong voice  while  addressing a human chain programme in front of the Jatiya Press Club.
Accusing the government of capturing power by force, Noman said all the activities of the current regime are illegal as it is not elected by people's vote.   "This illegal Awami League regime is resorting to killing, forced disappearance and repression  in  a  bid  to  refrain  the  opposition leaders  from mobilizing  people  against  their misrule"
Noman alleged that the government is putting BNP leaders and activists behind  the bars  by  implicating them in 'false cases' in its frantic bid to hang onto power.
Voicing deep concern over the increasing incidents of abduction and forced disappearance, the BNP leader said there  was no   security  to  people's  live as they are being abducted in broad daylight  anywhere  in  the  country.
Narayanganj  volatile
In Narayanganj,  the  aggrieved  and  worried   relatives and   supporters continued  to  put  blockade  on  the Dhaka-Chittagong and   Dhaka  Sylhet highways  protesting  abduction of  seven persons  including   panel mayor  Nazrul Islam  and  lawyer Chandar Kumar Sarkar.
The  lawyers also staged a demonstration and boycotted the district  court for consecutive  days  demanding the prompt recovery of   the  victims.  The aggrieved  relatives supporters  also    presented memorandum  to the Deputy Commissioner's office.
The panel  Mayor Narayanganj City Corporation,  Nazrul Islam along with seven other people was abducted from the city on Sunday, and the police haven't been able to trace them as yet. The other abducted includes Nazrul's aides Tajul, Swapan, Liton and the driver of his private car. Senior lawyer Chandan Kumar Sarker and his driver were also abducted hours after the abduction of Nazrul and his associates.
Several demonstrations are  also  being staged across the country to  protest  the  growing  incidences of   abduction, disappearance  and  extra-judicial killing.
The phenomenon of abduction has taken an alarming turn in recent times as at least 16 people were reportedly kidnapped in just three days since Sunday – seven of them were abandoned by  kidnappers in Narayanganj  and two in Gazipur on Monday night.
In Mymensingh, Kamal Hossain Sabuj, 35, head tutor at a local coaching centre, and his cousin Abu Bakar Siddique Swapan, 28, an assistant tutor at the centre, were abducted by unidentified miscreants from Panchgaon village in Bhaluka upazila early Monday.
Nur Mohammad, a local leader of Juba League, and his relative Md Salman were abducted on Sunday night from their house at Teknaf by 10-12 armed men who identified themselves as lawmen. The police are yet to find their whereabouts.
College student Taslima Akhter, 17, remained untraced two days after she was abducted on her way to college in Rangunia of Chittagong.
In most of the cases the abductors used the same tactics identifying themselves as members of law enforcement agencies.
Nothing to be  worried about
However,  state Minister for Home Affairs  Asaduzzaman Khan Kamal explained on Monday that  many BNP leaders and activists, accused in cases before and after the January 5 parliamentary elections, had gone into hiding   to avoid  arrest.   After  one  day  he  said  nothing to be  worried  about  the    incidents  of  disappearance.
Amid protests from different quarters wide concerns  from the civil society members after  Naryanganj kidnapping, the home ministry on Tuesday ordered withdrawal of Rapid Action Battalion 11 commanding officer Tareque Sayeed Mohammad and superintendent of police Syed Nurul Islam.
The police headquarters also closed Fatullah police officer-in-charge Akhter Hossain, and Siddhirganj police officer-in-charge Abdul Matin.
Source: Weekly Holiday