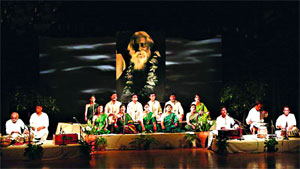 The nation celebrated the 74th death anniversary of Nobel laureate Rabindranath Tagore on 22nd Srabon of Bangla Calendar that falls on August 6.
To pay tribute to the poet, cultural arena of the country organized elaborate programmes that include musical soirees, recitations, discussions and seminars presenting the poets vast literary works.
Bangladesh Shilpakala Academy, Chhayanaut and Udichi among other organizations organized cultural programs to observe the day.
Moreover, Bangladesh Television (BTV), Bangladesh Betar and other satellite television channels and radio stations broadcast special programs on the occasion.
Born on 25th of Baishakh, 1261 (Bangla year) or May 7, 1861, the nobel laureate left his mark on all the genres of Bangla literature: songs, poetry, novels, essays, short stories and dramas.
Cultural CorrespondentDuring his lifetime, he wrote 52 poetry collections, 38 dramas, 13 novels, 36 essays and 95 short stories.
The Nobel Prize in Literature 1913 was awarded to Rabindranath Tagore for his Gitanjali: Song Offerings (1912). Its language was "… profoundly sensitive, fresh and beautiful …"
National anthems of three countries — Bangladesh, India and Sri Lanka — are credited to his name. He composed more than 2,000 songs comprising Rabindra Sangeet, one of the most popular genres of music in the Indian Subcontinent.
The cultural movement that started in the early 60s in the then East Pakistan through the celebrations of Tagore's birth anniversary defying an unofficial ban on Rabindra Sangeet hardened Bengalese resolve for liberation.
As an exponent of the Bengal Renaissance, he advanced a vast canon that comprised paintings, sketches and doodles, hundreds of texts, and some two thousand songs; his legacy endures also in the institution he founded, Visva-Bharati University.
Tagore modernised Bengali art by spurning rigid classical forms and resisting linguistic strictures. His novels, stories, songs, dance-dramas, and essays spoke to topics political and personal.
Gitanjali, Gora and Ghare-Baire are his best-known works, and his verse, short stories, and novels were acclaimed—or panned—for their lyricism, colloquialism, naturalism, and unnatural contemplation.
His compositions were chosen by two nations as national anthems: India's Jana Gana Mana and Bangladesh's Amar Shonar Bangla.
Tagore, visiting Santa Barbara in 1917, conceived a new type of university: he sought to make Santiniketan the connecting thread between India and the world and a global center for the study of humanity somewhere beyond the limits of nation and geography.
The school, which he named Visva-Bharati, had its foundation stone laid on 24 December 1918 and was inaugurated precisely three years later.
Tagore employed a brahmacharya system: gurus gave pupils personal guidance—emotional, intellectual, and spiritual.
Teaching was often done under trees. He staffed the school, he contributed his Nobel Prize monies, and his duties as steward-mentor at Santiniketan kept him busy: mornings he taught classes; afternoons and evenings he wrote the students' textbooks.
Rabindranath Tagore was born to Debendranath Tagore and Sarada Devi in the Jorasanko mansion in Calcutta, India on May 7, 1861, which falls on Baishakh 25 of Bangla calendar.
The legendary poet of Bangla literature breathed his last in Kolkata on August 7 in 1941, which falls on Sraban 22 of Bangla calendar.
Meanwhile , Bangla Academy organized a lecture session and cultural function to commemorate the day.
Speakers recalled the great contribution of Tagore to human civilization and his influence in the creation of a non-communal and humane society and state.
Chaired by the director general of Bangla Academy, Professor Shamsuzzaman Khan the lecture was delivered by Dr Begum Akhtar Kamal, professor of Bengali department, University of Dhaka.
Dr Akhtar in her speech said Tagore decried parochial nationalism and more so after the horrors of World War I. He actively participated in the anti-fascist peace movement.
He was also critical of colonialism and capitalism and visualized an inclusive and egalitarian society.
Discussing on the topic, Dr Anisuzzaman said that Tagore's thoughts on war and peace evolved over time. He saw the destructive plunder of imperialists and colonialists and desired an inclusive humanist uprising.
He felt that Tagore's thoughts on peace were relevant today.
The chairman said that when the Middle East and Africa were being torn asunder by strife Tagore becomes even more topical.
During the cultural session Bhashwar Bondopadhya recited from Tagore's poems, while Sadi Mohammad, Aditi Mohsin and Mokbul Hossain rendered Tagore songs.
In Naogaon's Patishar where the poet spent much of his productive years a lecture session and cultural program was organized at the premises of the Tagore bungalow. The main initiative of the program was taken by local legislator Md Israfil Alam, while Dr Amirul Mominin Chowdhury, director of the Institute of Fine Arts, Khulna University was the main speaker.
Chhayanaut programme
Chhayanaut observed the day through a musical evening at its auditorium in the evening of August 7. The programme began with a choral rendition of "Tomarei Koriachi Jiboner Dhrubotara" by the artistes of Chhayanaut. Then Laisa Ahmed Lisa sang "Oshru Bhora Bedona Dike Dike", followed by Sushanto Roy's "Abar Jodi Iccha Koro".
Then Chhayanut artistes including Oishee Rubaina, Mostafizur Rahman, Partho Protim Roy, Shemonti Monjori, Sudip Sarker, Bikrom Das, Iffat Ara Dewan rendered a number of solos. The programme also included a recitation by Jayanto Chattopadhyay.
Meanwhile, Jatiyo Rabindra Sangeet Shilpi Sangstha paid musical tribute to Tagore through a two-day programme at the Shawkat Osaman Auditorium of Central Public Library on August 6-7. The event included choral and solo renditions of Tagore songs a brief discussion by the members of the organisation. Artistes including Aniruddha Sengupta, Khandaker Khairuzzaman Kaiyum, Satya Chakraborty, Himadri Shekhor, Tapan Sarker and Abdul Wadud performed at the event.
Bangladesh Shilpakala Academy also arranged a programme at the Music and Dance Centre Auditorium. The porgramme included discussion, recitation, music and dance.
Source: Weekly Holiday