3 Bangladeshi children were rescued by a team of BGB from Zakiganj border of Sylhet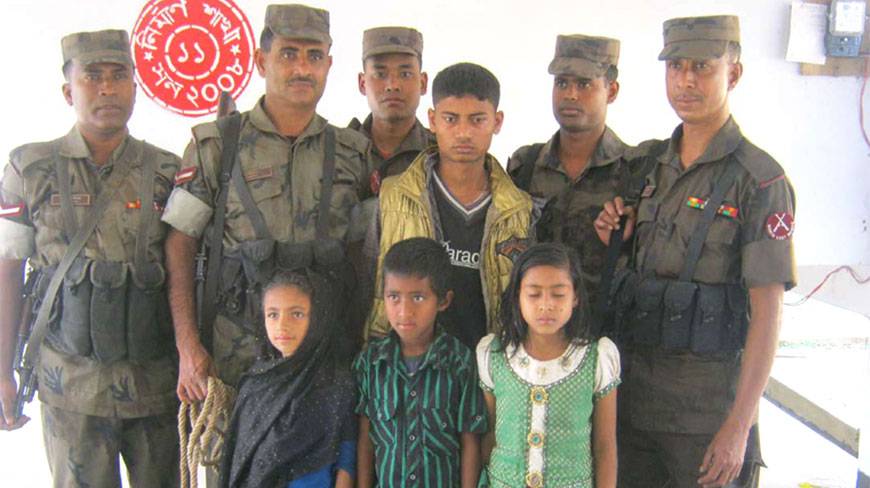 While being trafficked to India, three Bangladeshi children were rescued by a team of Border Guard Bangladesh (BGB) from Zakiganj border of Sylhet around 9am yesterday.
All of them are from different villages of Zakiganj upazila.
They are, Sharmin Akhter, 8, daughter of Aziz Uddin of Sharifganj village, Halima Akhter, 9, daughter of Abdul Sabur of Pilakandi village and Mahbub Ahmed, 9, son of Mosadder Ali of Amonsid village.
Commanding Officer of BGB battalion 41 Lt Col Shah Alam said acting on a tip-off, a team of BGB led by Nayek Subedar Abdur Razzak conducted a drive at the Pilkandi border and arrested the trafficker identified as, Shahab Uddin Shaju, 22.
Shaju, who is an alleged in several cases of human trafficking, had kidnapped the children while they were returning from a waz mahfil. A case had been filed against Shaju with Zakiganj police station, he said.
Officer-in-Charge of the police station Yunus Mia said: "We are investigating into the matter."
Police yesterday arrested two from Char Moddhonagar area of Fotullah upazila of Narayanganj district in connection with trafficking of two teenage girls and forcing them into prostitution in Qatar, confirmed Fotullah model thana Officer-in-Charge Akter Hossain.
The detainees are Al-Amin, 30 and Afiz Uddin, 43.
Sub-Inspector of Fotullah model thana Nazmul said: "Al-Amin and Afiz Uddin lured the girls with offer of a good job in Dubai and sold them at a brothel in Qatar."
A case was filed in this connection in October, last year.
A female SSC examinee was kidnapped from the same upazila yesterday.
The victim's mother Selina Begum filed a case in this connection.
The examinee went to Pagla High School in the upazila to sit for an exam. After coming out of the centre, a local, Kanchan Sheikh and his associates, Lutfur Sheikh and Zabed Sheikh, had kidnapped her, according to Selina Begum.
"We are trying to rescue the abducted," said the officer-in-charge.
Source: UNBConnect