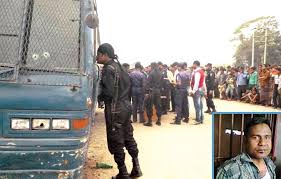 The panel formed by the Home Ministry to probe the snatching of convicted militants from a prison van in Mymensingh has found police and the jail authorities responsible for the daring incident.
The probe body says the incident took place due to the negligence of the police and carelessness of the jail authorities.
Additional secretary to the ministry Nazimuddin Chowdhury, head of the four-member probe panel, submitted their report to the Senior Secretary of the Home Ministry CQK Mustaq Ahmed on Sunday afternoon, sources at the ministry told UNB.
The three other members of the committee are deputy secretary to the ministry Khairul Kabir Menon, DIG (Dhaka Range) SM Mahfuzul Haque Nuruzzaman and DIG (Prisons) Tipu Sultan.
Two inquiry committees were formed to investigate the snatching of three convicted members of the banned militant outfit Jama'at-ul-Mujahideen Bangladesh (JMB) from a prison van in Mymensingh on February 23.
The Police Headquarters constituted the other three-man committee, led by Deputy Inspector General (Current Charge) of Criminal Investigation Department (CID) Syful Alam.
Two other members of the Police Headquarters' committee are Additional DIG (Dhaka Range) Khandaker Golam Faruk and AIG (Crime-East) of the Police Headquarters Md Abdul Alim Mahmud.
Miscreants snatched the condemned JMB convicts Rakib Hasan Russel and Salahuddin and lifer Boma Mizan from the prison van killing a policeman in Trishal upazila of Mymensingh on February 23.
However, one of the convicts was recaptured and killed in a 'gunfight' with police later.
Source: UNBConnect