Three leading cricketers of Bangladesh – Mashrafe Bin Mortaza, Shakib Al Hassan and Tamim Iqbal have become the highest taxpayers in sportsmen category for the outgoing tax year.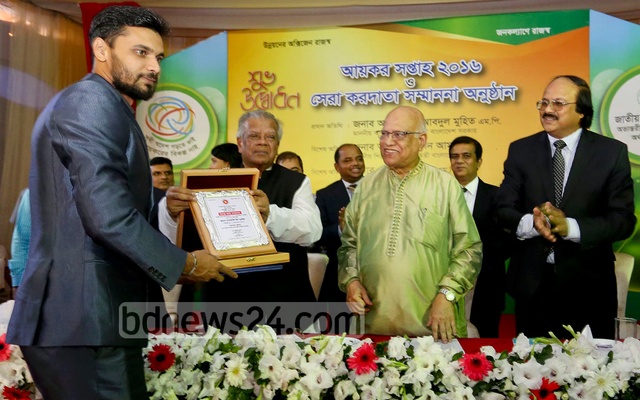 In recognition of their contributions to the economy, they got citation and tax card at the beginning of the Tax Week on Thursday at the office of the National Board of Revenue.
Mashrafe and Tamim received their citation from Finance Minister AMA Muhith while Shakib's sister collected it on his behalf.
"We all three are happy with the honour of becoming the highest taxpayers in players' category," Mashrafe said in his reaction to the reporters. "It's our responsibility to pay taxes as sensible citizens of society."
The cricketer urged everyone to pay their share of tax.
This year, some 141 professionals and business organisations from 14 categories are given tax card and citation for the highest tax payment in respective categories.
In earlier years, tax cards were limited to mostly different business categories but this  year it has expanded to different professionals like journalists, sportsmen, cinema and TV artists, senior citizens, physically challenged persons and injured freedom fighters.
The recipients of tax card and citation for 2015-16 fiscal are as follows:
Haji Md Kaus Mia and Golam Dastagir (Business category)
Planning Minister AHM Mustafa Kamal, City Group Chairman Fazlur Rahman, Latifur
Rahman, Sadruddin Khan and Professor Mazidul Islam (Senior Citizen)
Barrister Fazle Noor Taposh, Barrister Rokanuddin Mahmud and Barrister Rafique Ul
Huq (Lawyers)
Dr Pran Gopal Nath (Doctors' category)
Md Abdul Wadud (Engineers)
Khawza Tajmahal (Salaried professional)
Subarna Mustafa, Afzal Hossain and Pijush Bandyopadhyay (Artists/Actors)
Hosne Ara Hossain (Women category)
Md Nasiruddin Mridha (Gazetted injured freedom fighters)
Akram Mahmud (Disabled Persons category)
Md Nafiz Sikder (Entrepreneur below the age of 40 category)
Source: bdnews24