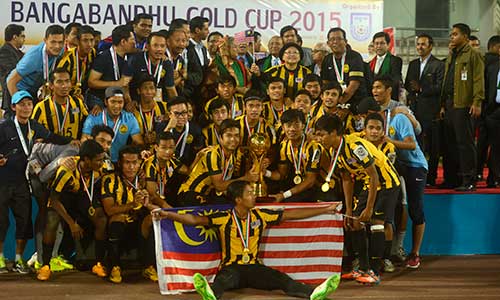 Malaysia Under -23 side clinched the title of Bangabandhu Cup football when they beat hosts Bangladesh 3-2 in the final in Dhaka on Sunday.
Muhamad Faizat struck in the injury time to break the hearts of Bangladesh after it appeared two teams were heading towards extra time with 2-2 draw.
Bangladesh played extremely well to bounce back from a two-goal down as Zahid Hasan Ameli and Yasin Khan cancelled out Malaysia's Nazirul Naim and Kumaahran first half strike.
Bangladesh's Jamal Bhuyian was adjudged player of the tournament.
Source: New Age