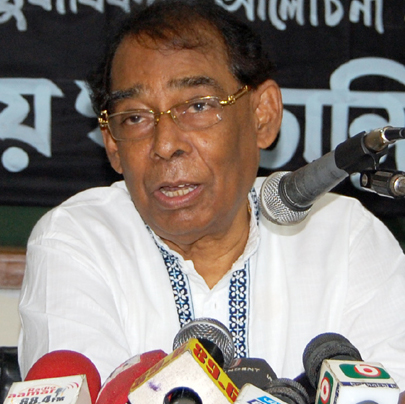 Dismissing the present crisis as a political one, Awami League stalwart Suranjit Sengupta on Monday reiterated that the ongoing countrywide crisis is a low-grade insurgency, not a political one, and it requires a special trained force to curb it.
"What's going on is neither a political crisis nor a problem of the law enforcement agencies. This is a low-grade insurgency. A specially trained force is needed to curb such a low-grade insurgency as the existing law enforcers are not enough to tackle it," he said.
The AL leader made the remarks while addressing a discussion here on the county's contemporary politics organised by Nouka Samarthak Gosthi.
Terming BNP chairperson Khaleda Zia 'inventor of petrol bomb politics', Suranjit, also an advisory council member of the ruling Awami League, said "Had it been possible to topple the government through such petrol bomb attacks, all the terrorist outfits and political parties from the rest of the world would have tried such option to capture power," he said.
Held at the Institute of Diploma Engineers (IDE) in the capital, Suranjit said the programme of petrol bomb attack is a new phenomenon in politics. Suranjit urged the BNP chief to realise the consequences of such terrorist act as it amounts to revolt, terrorism and militancy against democracy, independence and the nation as well.
The former minister also claimed that the BNP will not stop violence even the government holds dialogue and arrange a midterm national election. He called upon the people to get united and resist the ongoing terrorism.
Meanwhile, Awami League publicity and publication secretary Dr Hasan Mahmud alleged that the BNP chairperson has put up barbed wire fences at her Gulshan political office to save herself from people's wraths as she has been killing innocent people in the name of hartal and blockade.
He made the remarks during a rally organised by Awami Muktijoddha Projonmo League in front of the Jatiya Press Club.
Source: UNB