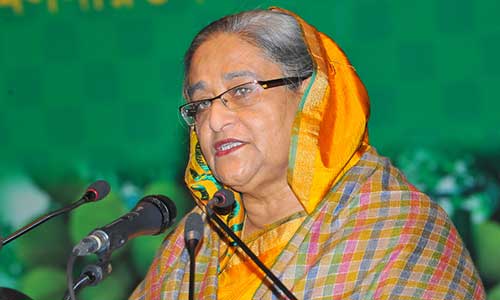 Like the war criminals, BNP Chairperson Khaleda Zia also would not be spared by the people of Bangladesh for having committed similar crimes, Prime Minister Sheikh Hasina said yesterday.
"The people of Bangladesh rejected Khaleda Zia in the recent municipal elections and they would certainly give an identical reply to her [in future] for her politics of destruction, killing and arson," she said.
The PM made comments while distributing laptops and multimedia equipment among educational institutions of Tungipara in Gopalganj.
Hasina said Khaleda left no stone unturned to save war criminals responsible for crimes against humanity in 1971.
"Khaleda Zia committed the same offence against the people of Bangladesh in 2015," she said, referring to the BNP's "destructive" movement to topple the government.
The PM claimed the BNP recently realised its mistake in politics and joined the municipal polls. "But the people of the country did not cast their votes in favour of the party as they were enraged by arson, and destructive politics of it," she said.
Recalling the misrule of autocratic governments in the past, Hasina said they destroyed country's democracy and economy after the assassination of Father of the Nation Bangabandhu Sheikh Mujibur Rahman in 1975.
"Democracy has been reestablished in Bangladesh after a long struggle, and the continuation of democracy has helped country's economic advancement," she said.
She said Bangladesh is a country of huge possibilities. "We have to exploit the potentials."
Paying tributes to her father Bangabandhu at his mausoleum, the PM also said he was assassinated as he had undertaken measures for rebuilding the war-ravaged nation. "The present government is making relentless efforts to accomplish the unfinished tasks of Bangabandhu," she said.
Heads of five educational institutions received laptops and multimedia equipment from the prime minister while other institutions would be given those through the upazila administration.
Newly elected mayor of Tungipara Gazi Golam Mostafa also spoke on the occasion arranged at the Library Bhaban of the mausoleum.
The PM, who along with her sister Sheikh Rehana, arrived in Tungipara yesterday morning, also inaugurated the newly-constructed Sheikh Russell Shishu Park there.
The two sisters offered prayers at the mausoleum, seeking eternal peace for the departed souls of Bangabandhu, their mother Begum Fazilatunnesa Mujib and other martyrs of August 15, 1975 massacre.
Later, the PM from her residence joined a doa and milad mehfil arranged at the mosque of the mausoleum.
Local Awami League leaders, newly elected mayors and councilors and their family members joined the programme.
Source: The Daily Star