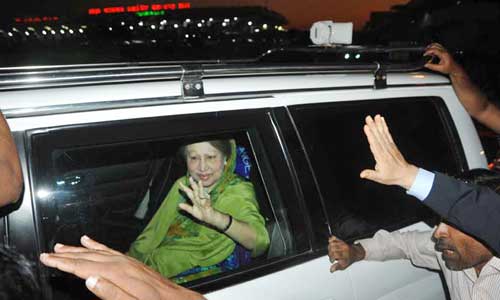 The Bangladesh Nationalist Party chairperson, Khaleda Zia, returned home on Saturday afternoon after staying more than two months in London for her medical treatment.
The former prime minister landed at Hazrat Shahjalal International Airport in the capital by a flight of Emirates Airlines around 5:12pm.
Leaders and activists of the party and its front and associate organisations were present at the airport to accord reception to the party chief.
BNP spokesman Asaduzzaman Ripon, earlier on Thursday, said Khaleda took decision to back home without completing her treatment considering the 'critical juncture' and 'political crisis' in the country.
Meanwhile, the party also asked the government to step up security of Khaleda following deterioration of law and order in the country.
The BNP chairperson left the country for London on September 15 for treatment of her eyes and to meet her family members including her eldest son Tarique Rahman, also the party senior vice-chairman, his wife and daughter.
Source: New Age