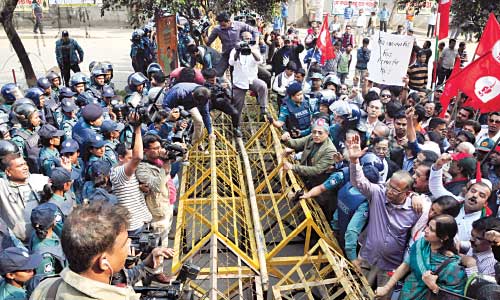 Several pro-liberation organisations on Tuesday demanded trial of BNP chairperson Khaleda Zia on sedition charges for her recent remarks on the number of 1971 Liberation War martyrs.
The demand was raised from a demonstration held at Gulshan-2 intersection under the auspices of Ekattorer Ghatak Dalal Nirmul Committee.
Holding banners of Muktijoddha Sangsad, Sector Commanders' Forum and Amra Muktijoddhar Santan took part in the demonstration near Khaleda Zia's residence.
The demonstration took place  three days after Sajeeb Wazed Joy, the son of prime minister Sheikh Hasina, in a Facebook status had asked pro-liberation forces to lodge protest against Khaleda Zia's 'audacious remarks' near her residence.
Addressing the demonstration, state minister for posts and telecommunications Tarana Halim announced that a bill would be introduced in Parliament soon to enact a law  seeking to prevent denial of the Liberation War.
'We have shown enough tolerance. No more', she said.
Ekattorer Ghatak Dalal Nirmul Committee acting president Shahriar Kabir demanded apology from Khaleda Zia for her remarks.
He urged the government to bring sedition charges against her for the remarks in which she showed disrespect to the  martyrs of the Liberation War.
Shahriar Kabir also demanded enactment of a new law with provisions to punish anyone making objectionable remarks against the Liberation War.
International Crimes Tribunal prosecutor Tureen Afroz,  Sammilita Sangskritik Jote president Nasiruddin Yusuf Bachchu, Ekattorer Ghatak Dalal Nirmul Committee general secretary Kazi Mukul and martyr's wife Shyamoli Nasrin Chowdhury were among the prominent participants.
The demonstrators gathered  at Gulshan-2 beginning 10 AM holding a banner inscribed with 'Khaleda and Gayeshwar must apologise to the nation' and 'Immediately enact Liberation War Denial Crimes Act'.
They shouted the slogans 'Joy Bangla', 'We won't allow our  motherland to become Pakistan', 'There's no space in Bangabandhu's Bangla for Pakistan lovers.'
The police intercepted the demonstrators as they proceeded towards Khaleda Zia's residence to lay a siege at around 11am.
Gulshan police station inspector Firoz Kabir said none could be allowed to hold gatherings in the diplomatic zone.
The protestors then held a sit down demonstration in front of the Gulshan Tower at the Gulshan-2 intersection demanding Khaleda Zia's punishment in their slogans.
The demonstrators peacefully dispersed at around the midday.
In her address at a discussion at Institution of Engineers, Bangladesh on December 21, Khaleda Zia had said that there were controversies over the exact number of Liberation War martyrs.
Source: New Age