The former premier in an interview with an Indian newspaper The Indian Express said, 'People of Bangladesh sincerely desire good relations with India'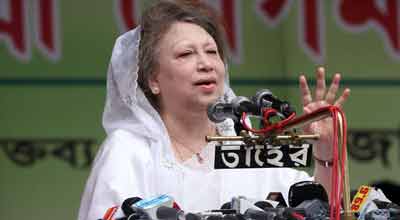 BNP Chairperson Khaleda Zia who have criticised the Indian government on almost all the occasions publicly now blamed the Awami League, not the Indian government, for the longstanding unresolved bilateral issues.
The former premier in an interview with an Indian newspaper The Indian Express said: "People of Bangladesh sincerely desire good relations with India."
Khaleda in her interview talked about a host of other issues between India and Bangladesh,
Khaleda told the External Affairs Minister of India Sushma Swaraj during her three-day visit to Bangladesh that India tried to convince the BNP to participate in the January 5 general election.
The BNP chief spoke of her expectations of the Narendra Modi government, her thoughts on the previous UPA government led by Congress party and politics in Bangladesh.
The people's perception is that the Congress-led government did not keep its promise to Bangladesh, she said responding to a question adding: "Actually it was the failure or lack of will of the Bangladeshi government to protect the interests of the people about unresolved issues that turned out to be bigger problem."
Khaleda also said it was also a public perception that the Awami League government did not argue well for Bangladesh.
"The people of Bangladesh sincerely desire good relations with India. This relationship should address the interests of the people of the two countries, not any particular political party or individual… I don't want to hold anybody responsible but Awami League forced them to do this.
"And the Indian government gave its support… Ershad talks about it even now, that he had not gone for the elections, that he was forced to go for it, that he had sent his withdrawal letter, that it was not accepted. So, the perception is that the Indian government played a role."
On a question whether she feels disappointed with the role of the previous Indian government during the elections, Khaleda said: "She (Sujatha Singh) tried to convince us also but could not. We told her why we could not participate in the elections. We are a political party, not an underground outfit, but if elections are not fair, there is no point in taking part.
Later, Ershad said openly that he will not contest. But later, through some way… I don't know whether the Congress-led government played a role; many believe that (it did), since the foreign secretary said such things… In fact Ershad later said the foreign secretary put pressure on him. And they [India] are the only ones to give recognition to the polls. Even the Commonwealth and the UN said that they don't support a one-party election… There were no election observers, so they have not accepted that. And people of this country have not accepted that. Therefore, it is an illegal government. The international community is asking them to have elections soon."
Khaleda also told Sushma: "Awami League understands that they don't have legitimacy in the country or outside. Awami League is telling us that you first recognise us as a legitimate government, then we will enter into a dialogue. So, their illegitimacy has been exposed… I told Sushma that no country has witnessed an election in which 154 candidates have been elected unopposed out of 300 in parliament. There could be 2, 4, 5… but 154? All the cabinet ministers have been elected unopposed. In Sheikh Hasina's case, there was no contest, but they put up dummy candidates to show that there was a contest."
Khaleda said the Indian Prime Minister Narendra Modi had invited her when she congratulated him over the assumption to office in New Delhi in late May and also said she sent two letters to Modi.
"Yes, we had conversation when I congratulated him. He invited me," she said.
In response to a follow up question whether she planned to visit New Delhi, the former prime minister said, "You know what the situation in the country is now, I am quite busy. There is no democracy in this country. Ninety-five per cent of people are with us and they want free, fair, impartial and inclusive elections."
Khaleda, however, refrained from making any comment on the difference between the Congress-led and BJP-led governments in India saying it was too early to make any definite judgment.
On West Bengal Chief Minister Mamata Banerjee's last minute blockade on a deal proposed for sharing Teesta river's waters, the former Bangladesh Prime Minister said she knows nothing about it as she did not met Mamata yet.
"The people of Bangladesh don't know what really happened… I have not met Mamata, and I don't know who blocked it. Our government says so. Hasina says so."
On Indian concern on terrorism with BNP's previous regime in Bangladesh, the BNP chief said: "It is a misplaced concern. This is a motivated propaganda to create a wrong view of the BNP. We are committed to never allowing the territory of Bangladesh to be used against India or any of our neighbours. We have also proven this on the ground."
Replying to a question if the domination of the two families will continue in the years to come Khaleda said: "This is not correct. Families are respected because Mujibur Rahman had a contribution, Ziaur Rahman had a contribution. From there, people have faith in them… Look, this is not just about politics — a barrister's son becomes a barrister, a doctor's son becomes a doctor, a businessman's son becomes a businessman. So, politicians generate that interest in their family members. And then, it comes to the people — whom do they accept, that is the key. If they don't accept, they will be out."
Source: Dhaka Tribune