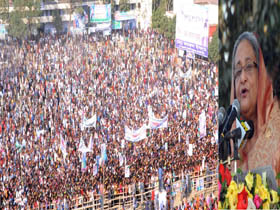 Maintaining her scathing attacks on BNP chairperson Khaleda Zia, Prime Minister Sheikh Hasina on Saturday said the BNP leader has failed in her movement to resist the national election as she did in her SSC exam (the then matriculation exam).
"She (Khaleda) has failed in the movement like her SSC exam where she came out successful in only two subjects. Now she's weeping alone in her bedroom thinking what she has done," Hasina said.
The Prime Minister was addressing a huge public rally at Charghat Upazila High School ground in Rajshahi in the afternoon, organised by local Awami League with its president Anwar Hossain in the chair.
Claiming that the people of the country did not respond to her call to reject the 10th general election, Hasina said, "People went out and cast their votes defying all odds, and the voter turnout was more than 40 percent."
The Prime Minister also said people have established their voting rights by teaching the BNP leader a good lesson.
She called upon the BNP leader not to burn people to death through arson attacks, and stop enforcing hartal and blockade programmes and not to disrupt social peace through creating anarchy in society.
Referring to the Election Commission's and international reports that 40 percent votes were cast in the 10th parliamentary elections, Sheikh Hasina ridiculed the opposition leader for saying that people did not go to the poling stations.
Missing the train of the general election, the BNP chief now jumped into the upazila election train, Hasina told her audience.
Termed Khaleda Zia the 'queen of destruction', Hasina said the BNP chief does not know any other than committing destruction.
She recalled that BNP-Jamaat alliance had unleashed a reign of terror when it was in power from 2001 to 2006. "They had created a 'Bangla Bhai' along with militancy in the country during their five-year tenure."
The Prime Minister said Khaleda Zia had thought that there would be no election on January 5 in the country, but by the grace of Almighty Allah the election was held and now she is repenting of her wrong decision.
The Prime Minister sharply criticised the opposition leader for calling the people of Gopalganj as 'Gopali'.
State Minister for Foreign Affairs Shahriar Alam, MP, former food minister Dr Abdur Razzaque, former state minister and AL joint secretary Jahangir Kabir Nanak, former state minister Omar Faruq Chowdhury and former Rajshahi city mayor Kahiruzzaman Liton, among others, addressed the rally.
Source: UNBConnect