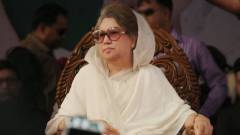 Arresting BNP Chairperson Khaleda Zia will be "very problematic", a European Parliament MP, who recently visited Bangladesh as part of a human rights delegation, has said.
Josef Weidenholzer told Parliament in Brussels on Thursday that they took note of the arrest warrant for Khaleda, but that was not implemented yet.
"I'm afraid this will lead to dramatic escalation (of the ongoing political tension)," he said.
"…the arrest will be very very problematic," according to the video of the team's debriefing about their Bangladesh visit in Parliament.
Dhaka's Third Metropolitan Special Judges Court, trying the former prime minister in corruption cases, ordered her arrest on Feb 25 as she repeatedly avoided appearing before the court during hearings.
Three Members of European Parliament (MEP) led by Cristian Dan Preda visited Dhaka from Feb 16 and Feb 20. Karol Karski was the other member.
Their visit, amid spiralling violence, was aimed at seeing the factory safety and labour rights issues after the Rana Plaza building collapse.
But, politics came up during their '23 meetings' with the stakeholders drawn from diverse fields like politics, business, civil society and media.
The BNP and its allies are enforcing a violent nationwide transport blockade since Jan 5, the first anniversary of last year's parliamentary elections, and and a series of shutdowns since the beginning of February.
More than 100 people have been killed as of now, most of them by fire-bomb attacks on public vehicles.
Weidenholzer said they witnessed "conflicts" and "clashes" during the visit.
He said 60 people died in those conflicts when they visited Dhaka and 7,000 to 10,000 opposition men had been arrested.
He found the situation "difficult" to resolve as the BNP called for snap polls and the government said they were constitutionally legitimate.
He said they did not see "any willingness" among the parties to reach a "compromise" and resolve the crisis.
"This conflict, these clashes are difficult to resolve. Both parties are really digging the heels in."
Weidenholzer, however, feared that if the opposition was sidelined, the other forces like extremists might fill the void.
"That means the terrorists. That's a big risk, big big danger."
He suggested that the EU work "more closely" with Bangladesh.
Weidenholzer said they also met Nobel Laureate Muhammad Yunus and said everybody told them nothing would change within next few weeks.
"The security situation there is very tensed," he said, adding that they did not go beyond Dhaka because of the security situation.
He termed media in Bangladesh "very lively" though according to various interlocutors it was not that "free place to express opinion freely."
The MEP said they also discussed the amending process of the Foreign Donation Act, death penalty, women and children rights, minorities, indigenous minorities, and Rohingya issues, among others.
On Foreign Donation Act, he said the government was amending it to make it more stringent to prevent terrorist funding.
Before concluding their visit in Dhaka, the team in a statement earlier said "peace and stability should not be restored at the expense of civil and political rights" in Bangladesh.
Source: Bd news24