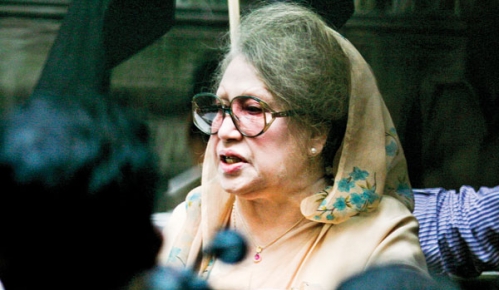 BNP chairperson Khaleda Zia did not appear at the National Mausoleum at Savar on Thursday to pay homage to the martyred war heroes marking the Independence Day as she skipped Central Shaheed Minar on the occasion of 'Amar Ekushey'.
However, some BNP leaders and activists, led by its standing committee members Lt Gen (retd) Mahbubur Rahamn and Abdul Moyeen Khan, placed wreaths at the National Mausoleum around 8am on behalf of the party.
After placing the wreaths, they stood there in solemn silence for a while as a mark of respect to the memories of the bravest sons of the soil who embraced martyrdom during the nine-month war of independence against Pakistani occupation forces.
BNP vice chairman Alataf Hossain Chowdhury, chairperson's adviser Shahjahan Omar, Inam Ahmed Chowdhury, Abdul Mannan, central leaders Mostafizur Rahman Babul, Asadul Karim Shaheen, Sramik Dal president Anwar Hossain, Mohila Dal president Nure Ara Safa and Ulema Dal president Abdul Malek were, among others, present.
Later, the two BNP standing committee members along with party leaders and activists visited party founder late president Ziaur Rahman's grave at Sher-e-Bangla Nagar and placed wreaths there.
They also offered fateha there and a munajat seeking the eternal peace of Zia's departed soul.
Khaleda has been staying in her Gulshan political office since January 3 and did not come out of it even for a single day over the two and a half months period.
Despite the issuance of a warrant for her arrest in two graft cases which is still effective, the BNP chief did not turn up before the court seeking any bail.
She also did not go to the Central Shaheed Minar on February 21 on the occasion of the International Mother Language Day and Amar Ekushey.
Party sources said Khaleda are not coming out of her office fearing that government may not allow her to return to her Gulshan office once she leaves it.
Source: UNB