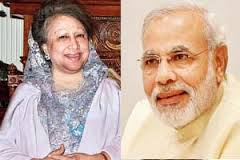 After the Prime Minister, BNP chairperson Khaleda Zia on Sunday night phoned Indian Prime Minister-designate Narendra Modi and hoped to work together for the welfare of the people of the two countries.
Khaleda made the phone call to Modi from her Gulshan office around 10:15pm, said BNP chairperson's press secretary Maruf Kamal Khan Sohel.
Congratulating Modi on his landslide victory in the Indian Lok Sabha polls, the BNP chief hoped that India will prosper further under his able leadership.
During the five-minute conversation, they agreed that they would work together in the future for the welfare of the people of the two countries.
The BNP chief also wished good health and long life of Modi.
Khaleda was also quick to greet Modi on Friday when BJP was on its course to resounding victory in the Indian national election.
BNP acting secretary general Mirza Fakhrul Islam Alamgir, vice-chairman Shamsher Mobin Chowdhury, and BNP chairperson's advisers Reaz Rahman and Sabihuddin Ahmed were present during Khaleda's phone call to Modi.
Earlier in the morning, Prime Minister Sheikh Hasina phoned Modi and hoped Bangladesh and India will sincerely work together as in the past to resolve any problem between the two neighbouring countries through bilateral discussions.
Narendra Modi of Bharatiya Janata Party (BJP) swept to victory on Friday in India's national election, which is seen as the most resounding victory India has seen in 30 years.
Source: UNBConnect