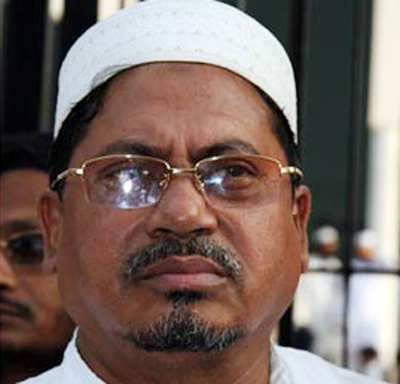 The counsels of condemned war criminal Mohammad Kamaruzzaman have said they would file the review petition, challenging the Jamaat leader's death penalty, on Thursday.
Tajul Islam, spokesman of the defence lawyers, said they would file the review petition on Thursday, the last day for filing the petition.
Earlier in the day, they met the war criminal at the Dhaka Central Jail.
A five-member lawyer team entered the central jail around 10:30am, said Forman Ali, senior jail superintendent of Dhaka Central Jail.
When asked about the topic of their meeting, the police official said: "They are discussing legal issues."
Earlier on February 28, a total of eight members, including Kamaruzzaman's wife Nurunnahar, visited him at jail.
In talking to reporters after the 30-minute meeting, Mohammad Shishir Manir, counsel for the death-row convict, said the family members went to see Kamaruzzaman as part of a regular visit. "We'll appeal to the higher court, and hope to get justice," the counsel added.
On January 29, the last meeting took place. On February 19, prison authorities read out the death warrant to Kamaruzzaman immediately after International Crimes Tribunal-2 issued it. On February 18, the Supreme Court released the full text of the verdict against the war criminal.
The review petition challenging his death penalty has to be filed in 15 days from the day the death warrant was read out to the convict.
On November 3, 2014, the Appellate Division of the Supreme Court upheld the tribunal verdict that had awarded death sentence to the Jamaat-e-Islami assistant secretary general for committing crimes against humanity during the Liberation War in 1971.
M Kamaruzzaman was shifted to Dhaka Central Jail from Kashimpur Jail in Gazipur after the SC upheld his death penalty.
Source: Dhaka Tribune