Abu Sufian Shamrat
Introduction
Intra-party democracy encourages a culture of democratic deliberation and debate on issues of national importance. Thereby, collective ownership of the party members over decision-making process is established. Also, it promotes party unity by reducing fragmentation and factionalism; creates legitimate internal conflict management systems and reduces the opportunistic and arbitrary use of delegated authority. This is the membership participation that forms the basis of intra-party democracy which occurs through processes such as policy formulation, leadership and candidate selection as well as their role in Party organs at all levels of the party structure. On the basis of secondary data, this paper examines the degree of intra-party democracy in Bangladesh considering effective membership participation in leadership selection process. Here only the elections of Awami League's (AL) General Secretary and Bangladesh Nationalist Party's (BNP) Secretary General in their party councils/conventions would be the area of analysis to assess the present situation of party democracy exercised by these two major political parties of Bangladesh. The central argument of this study is that the election or selection of party secretary is not participatory enough because of entrenched centralization, passive membership, irregular party councils and political use of LGRD ministry.
Historical Background of Intra-party Democracy in Bangladesh
Colonial Period: In the colonial era, the leaders and people of East Bengal became aware of their democratic rights through the establishment of All India Muslim League (AIML) in 1906. The present Bangladesh was a part of provincial Eastern Bengal and Assam Muslim League. In this provincial league, the early top leadership was oligarchic in nature, but party affairs and decision-making mechanisms were democratic. In the course of time, top leaders such as Fazlul Huq, Abul Kashem, Mujibur Rahman emerged from middle-class professionals. In this era, centralization of power and politics of individualism played fewer roles. Rather top leadership followed democratic values smartly to get support for organizational affairs. For getting a political basis for Bengal partition, on 2 March 1912 the Bengal Provincial Muslim League (BPML) as a branch of the AIML was founded as "a protest against both to the AIML as well as to the government." In this period, party councils were almost regular, and the selection of top leadership was democratic. From 1921 to 1942, the BPML had had ups and downs situation in practicing party democracy. But in late 1943, Abul Hashim's election as secretary of BPML marked a new era in party organization as well as policy matters. Under Suhrawardy's protective wing, Hashim attempted to democratize the organization and to assert party supremacy over parliamentary wing brought him in conflict with 'Khwaja group'- a pro-Jinnah and anti-Suhrawardy-Hashim group consisting of Nazimuddin, Akram Khan, Ispahani and their supporters. Since the formation of the BPML, office-bearers, and members of the executive committee of the district and sub-divisional levels were elected or selected mostly in the 'drawing rooms' of local leaders. Hashim ensured the League organizations at all levels to hold internal elections on a regular basis. Unlike previous years, now annual elections within the organization were held regularly. Moreover, the Working Committee of the BPML had been quite active, holding as many as 22 meetings in 1944. The BPML became a platform for democratic practice and flourished civil and political freedom among the people of the East Bengal for establishing a democratic polity (Rashid, 2003: 1-43; 149-165).
Pakistan Period: The AIML, after founding Pakistan, rechristened itself the Pakistan Muslim League (PML). But in June 1949, a number of Muslim League MLAs and workers who were disillusioned with the undemocratic functioning of the party bosses met a two-day convention in Dhaka. People's Muslim League, namely the East Pakistan Awami Muslim League (EPAML) was founded at this convention. This league worked for ensuring provincial autonomy, equal rights and democratic governance for the people of East Pakistan. In 1953, Sheikh Mujibur Rahman, secretary of the EPAML, felt that "the league, though it ideologically represented all interests, is unable to bring all of them into its fold because of its organizational limitation (Ghosh: 1990, p. 12)" and internal factionalism. Hence he emphasized strengthening intra-party contacts at all levels, and popularization of the party programme through wide mass communications. Following this, the league organized three party councils within 1949-1955, where top leaders were elected through effective membership participation. In this period, the party was a platform of forming a public opinion as the positions like party president and secretary were regarded more vital than holding any position in government. As "in 1956 Sheikh Mujibur Rahman resigned from the post of provincial minister to become General Secretary of Awami League with a view to strengthening the party (Ahmed, 2012: 16)." The party politics in East Pakistan passed a dark period from 1958 to 1962 for military rule by Ayub Khan. The political parties of East Pakistan revived to face coercive party act 'EBDO' imposed by Ayub regime. Mujib, the charismatic leader, enabled the AL to organize grass-root workers and to obtain mass support for party programmes for 6-points movement. In 1970's election of National Assembly, the AL got a massive victory because of its democratic attitude towards party's internal governance and politics of commitment to the people of dreaming nationalism but failed to form a government due to Pakistani authoritarianism. As in 1971, the top leaders of the AL along with workers and individuals from all sectors fought a bloody war against the Pakistani domination and achieved independence (Ghosh, 1990: 1-43).
Bangladesh Period: Political parties (mainly AL with others) played a dominant role in the liberation of Bangladesh. They also made contributions regarding establishing democracy. But after the independence of Bangladesh, the major political parties failed to consolidate the nascent democracy because the personality factor overshadowed the institutional factor, organizational weakness, weak governance in internal party affairs, etc. In 1972, Sheikh Mujib as the party chief of AL enjoyed enormous power to take any policy decision regarding party affairs. As a result, other major leaders left the party and formed new political parties. In 1975, the then government entered into a one party system (The Bangladesh Krishak Sramik Awami League) giving almost all powers to the party as well as government chief. Following dramatic changes in power through military coups in 1975, Bangladesh experienced a dark period of party democracy. Within1978-1990, military rulers, formed several political parties to get legitimacy of their regime (BNP was launched by Ziaur Rahman in 1978, and JP was established by Ershad in 1986). Basically, these parties were formed under the shadow of state-sponsorship where a new class of civil-military bureaucrats/technocrats emerged. The party chief fixed all the decisions of party affairs in this era. In 1991, parliamentary democracy became restored and, AL and BNP became dominant political forces. Small political parties became marginalized and moved towards electoral alliances led by AL and BNP. Since 1991-present, the two largest parties are oligarchic in nature. The party chief takes all the policy decisions. No one dares to raise any voice against him/her because of his/her absolute power. Since 1991, no free competition was seen in the elections for top party leadership i.e. party chief, party secretary, etc.
Democracy within Political Party
Democracy within political party means intra-party democracy or party democracy. "Internal democracy in political parties refers to the level and methods of including party members in the decision making and deliberation within the party structure. Intra-party democracy is usually known to nurture citizens' political competencies and to produce more capable representatives which in turn ensures that the party produces better policies and political programmes (Hallberg, Methods of Promoting Internal Democracy in Political Parties, April 29, 2008, http://aceproject.org/electoral-advice/archive/questions/replies/110615365)." In the late 1940s forming a committee under the supervision of E. E. Schattschneider, the American Political Science Association (APSA) conducted a research on the American party system. This research work is still regarded as a blueprint for party democracy. The committee believed that the main problem of electoral politics was that the citizens would not be able to check the parties effectively if there were no clear policy alternatives presented by parties (Ware, 1979: 71-72). In a democratic polity, the primary democratic function of political parties is to link the citizenry with the government (Sartori, 1976: 11). To play this role effectively, political parties have to provide opportunities for effective participation by party members, activists, and leaders in the party's decision-making processes. The more compelling arguments for intra-party democracy can be found in participatory and deliberative democratic theories where freedom is seen as a process rather than an outcome. McPherson (1977) develops this argument further by proposing a pyramidal system of intra-party democracy 'with direct democracy at the base and a delegate democracy at every level above that' supplemented by a system of competitive political parties (Teorell, 1999: 368). "Intra-party democracy also encourages political equality by creating a level playing field in leadership/candidate selection and policy development within the party; ensures popular control of government by extending democratic norms to party organizations such as transparency and accountability; and it improves the quality of public debate by fostering inclusive and deliberative practices within parties (Gauja, 2006: 6)."
Organizational Position of Party Secretary: Contrast between AL and BNP
There is a difference between the constitutions of AL and BNP regarding the organizational position and, power and functions of the party secretary. The constitution of AL contains a definite article (Art. 25(c)) about the General Secretary's organizational position along with his power and functions. But the constitution of BNP contains no specific article regarding the organizational position and, power and duties of the Secretary General. Constitutionally the General Secretary of AL enjoys more power than the Secretary General of BNP. The imbalance of responsibilities and functions between the president and secretary is acuter in BNP than AL.
AL: The General Secretary of AL shall be the Chief-Executive-Officer of the organization. He shall have the right to give advice and order to all Departmental Secretaries to discharge their functions. He shall call a meeting of the Secretaries at least once a month. He, subject to the approval of the Executive Committee, shall have the right to increase or reduce pay, grant leave and punish the officials of the organization. He shall make arrangements so that the decisions taken by the Presidium, Executive Committee, National Committee and Bangladesh Awami League, are fully executed through various Departments (Art. 25c). With the approval of the President, the Secretary shall be able to summon the meeting of the Council and the Executive Committee or of Presidium Members (Art. 11). He, at every council meeting, shall present a report on the activities of the organization. Moreover, he shall also apply the powers vested in him by National Committee or Council. He shall have the right to give the responsibility to any Joint-General Secretary or Departmental Secretaries to perform any functions of the organization. From time to time, the General Secretary, in consultation with the President, shall assign Division-wise administrative duties to the Organizing Secretaries (Art. 25c).
BNP: The secretary general, according to the advice of Chairman, will approve the zilla Committee (Art. 6) and the Mahanagar executive committee (Art. 9). The Secretary with the written advice of the chairman can call a meeting of the national council (Art. 9a) and the national executive committee (Art. 9b). Any member of the national council can bring a proposal to amend the constitution. The proposal will have to be sent to the secretary general so that the secretary general can put it on next meeting of national council (Art. 12).
Elections of the Party Officials: Comparison between Two Party Constitutions
Party constitutions of AL and BNP almost include similar provisions regarding election or selection process of party leaders.
Organizational Structure: There is a similarity in organizational structure of AL and BNP. At the national level parties have six structures: council, executive committee, small decision-making body (Presidium in AL, National Standing Committee in BNP), advisory council, parliamentary board and parliamentary party. At the sub-national level, party structures follow the administrative units: District, Upazila, union, metropolitan city, municipality, and ward. Parties maintain several front and associate organizations to mobilize different groups, e.g. women, student, youth, workers, etc. Party constitutions stipulate elections for the councils and committees at the national and sub-national levels as well as in front and associate organizations. In organizational structure, the party president is the supreme authority to take any decision regarding internal party affairs vested by the other party officials in both AL and BNP.
Leadership Selection Process of the Parties at National Level: There are a number of methods to select a party leader, for instance, ranked from open to closed procedures, include open primaries, closed primaries, delegates' conferences, consensus methods, or appointment (Mimpen, Jeroen, Intra-party Democracy and Its Discontents: Democratization in a Volatile Political Landscape, p. 3). In Bangladesh, both AL and BNP follow delegate conferences or council as a method of selecting party leaders.
Table 1 (Party Constitutions of AL and BNP)
Political Party
Position/Body
Selection Process
Awami League (AL)
§  President

§  General Secretary

§  Election by the Council

§  Election by the Council

Bangladesh Nationalist Party (BNP)
§  Chairperson

§  Secretary General

§  Election by National Council

§  Election by National Council
Frequency of Elections
Party constitutions of both AL and BNP combine that, party councils would have to be held following a gradual tenure of 3 years. But in practice, both parties are hardly able to hold party councils as a continuous tenure of 3 years.
Election or Selection?
Both party constitutions and RPO declare that party leadership selection process will be democratic. Here effective membership participation will be the basis of the process. Both political parties have to select their national leadership through the national council/delegates conference, a form of party caucus in which representatives from the lower branch or district levels of the party meet at the national level. According to these party constitutions, these delegates are supposed to be elected by party members at the branch, district or constituency levels. The delegates' national council is described as the highest decision-making organ of the party whose decisions are binding to the party.
In practice, these delegates are usually handpicked by party operatives according to their loyalty to particular party elites from their regions. In many cases, most parties do not have any real structures at the grassroots from where delegates should be democratically elected. The delegates' selection process is usually yet another demonstration of the politics of personality cults, sycophancy and patronage as opposed to genuine processes of intra-party democracy. The top leaders of both parties' i.e. party chair and party secretary often interfere in selecting delegates in the grassroots level. They choose candidates for local council, and these candidates become delegates for party council. As a result, these delegates remain less effective in party council for electing party top leaders. Here the party chair controls this mechanism through the party secretary's direct involvement.
Election Results
Table 2: President and General Secretary of AL from 1949 to present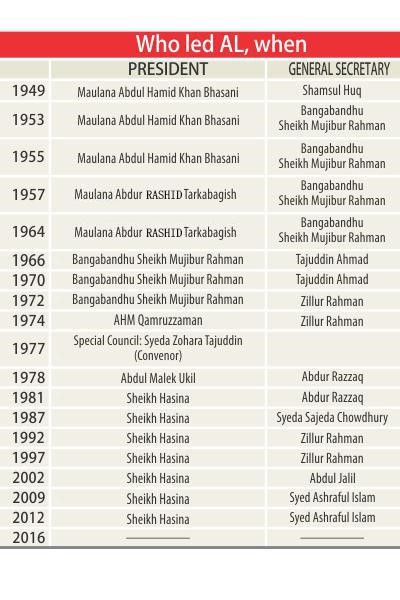 In the party council of 2016, AL elected Sheikh Hasina as the president and Obaidul Quader as the party secretary.
Table 3: Chairperson and Secretary General of BNP from 1981 to present
Chairperson
Tenure
Secretary General
Tenure
Abdus Sattar
1981-1984
A.Q.M. Badruddoza Chowdhury
1979-1990

1984-present

Abdus Salam Talukder
1991-1996
Abdul Mannan Bhuiyan
1996-2007
Begum Khaleda Zia
Advocate Khandker Delwar Hossain (Acting)
2007-2009
Advocate Khandker Delwar Hossain
2009-2011
Mirza Fakhrul Islam Alamgir (Acting)
2011-2016
Mirza Fakhrul Islam Alamgir
2016-present
Trend Analysis: Why Selection not an election?
Entrenched Centralization: All the mechanisms of party affairs of AL and BNP are controlled and directed by strong centralized leadership. The party chairs of both parties tend to enjoy absolute power in policy decisions of party affairs. As no party leader and member dare to oppose their decisions. As a result party councils remained only public show where decisions were fixed, and delegates' participation was democratically almost null and void. "There is no change or competition for party presidency/chairmanship for nearly 30 years in AL and BNP (Jahan, 2015: 137)." Although there were changes in party secretary position, they were selected by party chairs. In party councils, effective membership participation remains ineffective because of almost no competition for party chair and secretary posts. The position of the party chair is almost fixed, and he/she makes the final selection of party secretary privately before holding councils (Suri, et al. 2007: 91). As Duverger writes that, "the leadership of political parties… is democratic in appearance and oligarchic in reality (Duverger, 1959: 133)."
Table 4: Model of party organization and organizational tendencies (Scarrow, 2005: 15)
| | | | |
| --- | --- | --- | --- |
| Type | Centralization | Inclusiveness | Institutionalization |
| Dominant Leader | High | Low | Generally Low |
The AL's claim to contribute in consolidating country's democratic process also faces a severe setback due to lack of intra-party democratic practice. AL chief has emerged as the supreme leader of the party since 1981. No one dares to question her leadership and decisions regardless of whether they are right or wrong. The party has already set an unprecedented record by having Hasina as its longest ever serving chief. She has been leading the AL for the last 36 years of the 65-year life of the party (Liton, 2014).
BNP Chairperson enjoys the absolute authority to convene the party's national executive committee meeting. BNP Chairperson's power was consolidated further through the fifth national council held on December 8, 2009. Instead of proposing ways to establish intra-party democracy, the council also authorized the Chair to pick the remaining members and office bearers of the standing and executive committees. Without asking anyone, the Chair can dissolve the national executive and standing committees anytime (Hasan, 2014). The provision in party's constitution to remove the chairperson was also hardened by the national council.
Party Secretary as LGRD Minister: Since 1986 political governments have reserved the local government, rural development, and cooperatives portfolio for the general secretary of the party in power, a tradition that experts believe is meant for tightening the ruling party's grip on the grassroots. The party in power feels it safe to entrust the general secretary, the second man in a party, with the LGRD ministry job with twin purposes- implementing the government's rural development agenda and benefiting the root-level party activists using executive power and public fund.
Table 5: The LGRD Ministers 1986-2015
| | | |
| --- | --- | --- |
| LGRD Ministers | Political Party | Tenure |
| Shah Moazzem | Jatiya Party | 1986-1988 |
| Najiur Rahman Manjur | Jatiya Party | 1988-1990 |
| Abdus Salam Talukder | BNP | 1991-1996 |
| Zillur Rahman | AL | 1996-2001 |
| Abdul Mannan Bhuiyan | BNP | 2001-2006 |
| Syed Ashraful Islam | AL | 2009-2015 (8th July) |
The party chief considers party secretary most reliable for this ministry to conduct the grass-root party affairs and will work as a bridge between the chief and local and regional party leaders and members. Here the LGRD minister also gets the pulse of the party's grassroots while coordinating rural development works and may use some information as weapons for dominating the party as its general secretary. The secretary also controls almost all party and executive affairs along with distributive works as a sole trustee of the party chief. For this reason, other party leaders and cabinet members have to pay loyalty to the party secretary as the party chief gets.
But in July 2015, this continuation has been disrupted by the removal of Syed Ashraful Islam from the LGRD ministry. The sudden removal of Syed Ashraf caused a short-term dilemma, but the present government handled this short-lived crisis smartly by appointing him as Public Administration Minister later. Since the restoration of parliamentary democracy in 1991 the ministry of public administration has been controlled by the prime minister. This ministry plays a key role in the well-functioning of central as well as local governance to initiate developmental and structural affairs. It determines organizational structures, rules and regulations, functions, method, terms, and conditions, recruitment, promotion, deputation of all ministries, divisions, departments along with civil service. It controls the secretariat, and provides man power and budget to district administration. In a nutshell, the public administration minister can be considered as a most important portfolio regarding power and functions after the prime minister within the cabinet (Bangladesh Gazette, Peoples Republic of Bangladesh, April 15, 2012, pp. 13667-13673). If the party secretary holds this portfolio, then it has been expected that he will be able to take proper care of central as well as local administration taking into account his experiences in root level connections and expectations of mass people.
There are also some downsides of the party secretary acting as the minister. A. F. Salahuddin Ahmed argued that the party's secretary general or chief executive does not normally hold any government position such as cabinet minister. He has to act a watch-dog of the government. In fact, the party serves as bridge between the government and the people. If the party executive becomes a cabinet minister he cannot give his fulltime attention to the organizational work of the party. Consequently the party is neglected and faces the danger of being isolated from the people. This situation is a fraught with great danger for the ruling party (Ahmed, 2012: 16).
Passive Membership: The conceptualization of political parties as instruments of collective human action, mobilization of social forces and aggregation of diverse interests implies a significant place for party membership within its organizational structures, activities and orientation (Maiyo, Josh 2008, 53,). In Bangladesh, the two dominant political parties become dormant after elections and the lack of political activity involving party members adversely affects the external credibility and internal democracy within parties. The role of party membership in the formulation of party policies and selection of leadership is virtually nonexistent. Here major two political parties are more creatures of political elite to control government and the masses. Consequently, the role of party membership is secondary to that of the elites. One of the significant challenges to the institutionalization and democratization of political parties in Bangladesh is the lack of organizationally effective party membership. As membership participation in the decision making process enjoys low priority in the selection process of party secretary.
Irregular Party Councils: In practice, parties do not follow their own rules. Council meetings are infrequent in the BNP. In the AL, council meetings are more regular but these are more a public show than a forum for democratic competition, discussion and debate. Since inception, AL organized 20 council meetings (1 in every 3 years). But in recent years there was no election for leadership positions. Council meetings elected the party president unopposed and delegated to her the authority to select other office bearers. Since inception, BNP organized only 6 council meetings (1 in every 6 years). There was a gap of 16 years between BNP's 4th and 5th council meetings. In BNP, too council meetings elected party chairperson unopposed who was then given the authority to select other office bearers. At the sub-national levels, elections for committees are infrequent. Most sub-national committees are either ad-hoc or their tenure has expired. In many cases, central leadership selects sub-national leaders. Compared to BNP, AL appears to have better record in organizing committees and electing leaders at the sub-national levels (Jahan, 2015: 173-74).
Conclusion
It appears from the above analysis that there has been a conspicuous deficit of democracy within the major two political parties of Bangladesh. In a transitional democracy like Bangladesh political participation of party members in policy formulation and selecting party officials as well as candidates for elections remain very low. Both AL and BNP fail to ensure effective membership participation in selecting top leadership in party councils. Their party councils remain only public showdown and merely a flimsy legitimization process, where membership (delegate) participation plays almost no role for not occurring any competitive democratic election within party organization. Also the party members of both AL and BNP are habituated to see dynasty in party's top leadership as a tie of unity and trust. In turn, the party chief enjoys enormous powers to select anybody for party official post. The party chief wants most reliable and trusted person as the party secretary for ensuring his/her monopoly or supremacy over party affairs. Also both parties did not organize their party councils regularly to prolong these undemocratic procedures. Finally it can be argued that, political parties must have to ensure effective membership participation within party' internal affairs i.e. selecting top leadership, otherwise the dream of institutionalization of democracy in Bangladesh will be a far cry.