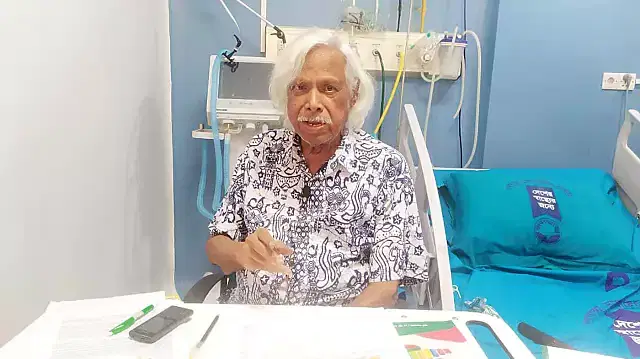 Zafrullah Chowdhury, founder and trustee of Gonoshasthaya Kendra, after recovering from coronavirus, spoke from his hospital on 20 June in an interview with Prothom Alo. He discussed the coronavirus issue, the health system, the antibody test kit, his dreams, and more.
How are you doing and how about your treatment?
I still have pneumonia. Speaking about health, medical treatment is not costly. It is corruption and the lack of confidence that is expensive. The people must be told this and the media has this responsibility. People like me have this responsibility. The people, the government, all have responsibility.
There is the matter of oxygen. The machine records exactly how much you need. I must have used about Tk 500 worth of oxygen. I mention the price in context of cost-effective healthcare, affordable healthcare. Back in March I had been saying that the country will face a problem in oxygen supply. We cannot waste oxygen.
The Directorate of Health Services (DGHS) says that many people are buying oxygen cylinders and keeping these at home. How do you look at that?
People can buy oxygen cylinders, but they have to know how to use these. They will need to buy a machine which can even be got for just Tk 5000. This will tell them whether there is enough oxygen in their blood.They will have to understand that you don't need to take oxygen randomly. These things are not taught here at our medical colleges. If a person's saturation is not below 92, then it is not needed. They just have to be patient.
Do you have any problems other than pneumonia?
I can't talk. My throat has been affected. I am a hot tempered man and easily lose my patience. When I get angry, my throat gets affected.
Did you have to bring any medical equipment from abroad? ICU is said to be so expensive.
Not at all. ICUs are necessary. I am making a corona ward at my hospital (Gonoshasthaya Nagar). It will have general beds with ICU facilities. No separate ICU will be needed. It will cost around Tk 500 to Tk 1000 for a Covid patient to avail such a bed, much less than the other private hospitals.
The Gonoshasthaya Nagar Hospital is around 30 years old now. It has been providing primary healthcare and now we are taking up tertiary care. That means ICU facilities. But preliminary care is important. Each and every patient will receive the same care as I was given. Each and every patient must treated like a family member. Physicians and nurses must be trained accordingly.
Not being able to fly off to Singapore or other countries for treatment, wealthy persons are getting admitted into CMH rather than the other renowned private hospitals here. Why is that?
It is because the Combined Military Hospital (CMH) is relatively better disciplined and better equipped. To me, Dhaka Medical College Hospital is the best hospital here. BSMMU is almost under lockdown. It is such a big hospital, hardly functioning. Who will answer for this? Who will compensate for such a huge hospital just lying idle? We simply have no accountability.
We need courage, the right to speak out, to boldly stand up for what is right. That is why the British Medical Association has made me a life member, free of cost. I am the only life member of the association. And yet Bangladesh Medical Association expelled me. It was because had tried to prepare a health policy and reminded the physicians of their duty. That was long ago, but they haven't reversed their decision. I will be happy if they did, but not unhappy if they don't.
What do you have to say about the BSMMU committee report on the Gonoshasthaya kit?
I am grateful for their efforts, though they could have carried out the work better. I want to continue research along with them. I want them to carry out their responsibilities as a university. A university has three responsibilities. Firstly, research. Secondly, service. Thirdly, providing the people with due medical treatment.
They have done a part of the testing, the antibodies. Now they have to test the antigens.
If the drug administration gave us the certificate, we could carry out scientific practice inexpensively at an intentional level, particularly with Muslim countries. In the past. Pakistan's Abdus Salam has created a science academy. We have a dream too of a science academy in Bangladesh. We will get support from Bangladeshis all over the world. Many have expresses their interest in this, even within the country.
Coming back to the kit, the drug policy maintains that any drug manufactured in the country cannot be imported. And if an antibody kit is imported, them it must face the same conditions as applied to the Gonoshasthaya kit. There can't be double standards. There must be tests and then a report and only then can it be imported. A decision must be made about the price too. The Gonoshasthaya kit costs Tk 300.
Once you get the registration, how long will it take for the kit to be used for the benefit of the public?
Two months. Our target is to manufacture 100,000 kits per day. But, initially it will not be possible to manufacture more than 10,000 kits daily.
Our base should be the union level health and family welfare centres. These have small laboratories. The health workers can take up the work after a month's training. It has to be a short-term training. If it is long term the people will be deprived of treatment. It is like a battlefield. Work has to be done immediately.