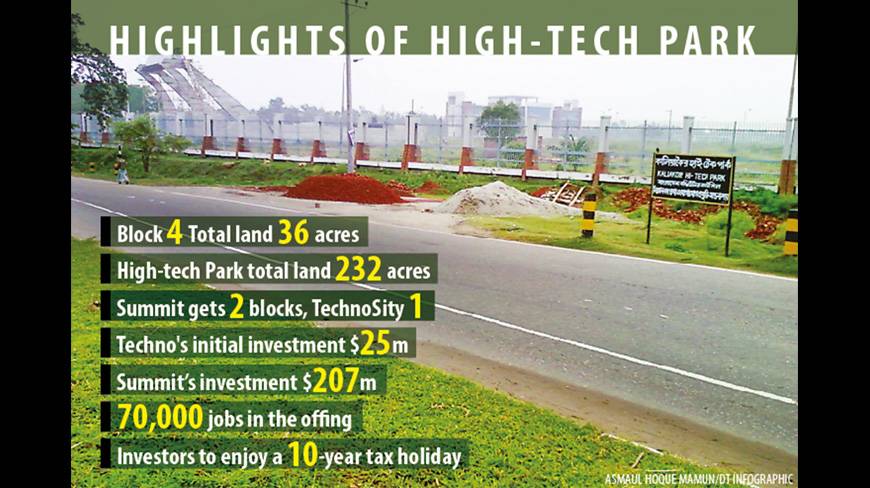 Bangladesh Hi-Tech Park Authority, owner of the Kaliakoir Hi-Tech Park, plans to award its block 4 at the end of current month.
Tender evaluation is now at the final stage to allot the block for expediting the construction and development works of the  Park.
Developers will have to set up water treatment plant, substation for electricity and develop industrial area for the block with 36 acres of land.
An official of the park authority told the Dhaka Tribune a meeting of the tender evaluation committee will be held soon.
"We need one more meeting to finalise the decision on the bid winner of block 4. After completing all the process, the park authority will formally announce the name of developer for the block," he added.
Bangladesh TechnoSity Limited and Summit Technopolis are contesting in the bidding process for getting the work.
Besides, another meeting was held recently with Abul Kalam Azad, principal secretary of the PMO, in the chair to review the overall progress of Kaliakoir Hi-Tech Park and Jessore Software Park.
According to meeting sources, the government high-ups have ordered the officials concerned to expedite the works for the sake of public interest.
Kaliakoir Hi-Tech Park, the first ever in the country is located at Kaliakoirupazilla in Gazipur. It is only 40km north off Dhaka city with 232 acres of area.
"We are very much hopeful that the entire evaluation process would be completed this month," Hosne Ara Begum, managing director of the Kaliakoir Hi-Tech Park Authority told the Dhaka Tribune.
Kaliakoir Hi-Tech Park has a total of five blocks, out of them, three blocks have already been allocated to Summit Technopolis and TechnoSity Limited.
TechnoSity will develop 40 acres of land under the block no 3 on a design, build, finance, own, operate (DBFOOT) basis according to an agreement signed on August 11, 2015.
Initially, TechnoSity will invest US$25m for the construction works and if necessary, the investment might also be increased by 10 to 12 times.
Summit Technopolis will develop 2nd and 5th block of the project under Public Private Partnership (PPP) within next 40 years with a cost of $207m.
On June 28, the government had signed an agreement with Summit Technopolis to develop block No 2 and 5, which spread over 65 acres and 29 acres of land respectively.
As many as 70,000 employments will be create by the Hi-Tech Park while over one more lakh people will be employed indirectly.
The Hi-Tech Park will be equipped with uninterrupted gas, electricity connection, high-speed internet connection.
Hi-Tech Park Authority offers 10 years tax holiday, exemption of income tax for expatriate professionals, 10 years accelerated depreciation permissible, exemption from import duties, 100% exemption of taxes for all exports, 100% equity is allowed for FDI companies, custom bonded area and single window agency.
Source: Dhaka Tribune