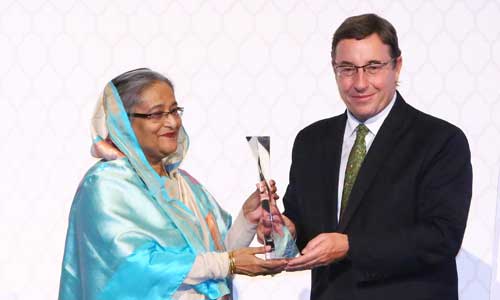 The prime minister, Sheikh Hasina, received the highest environmental accolade of the United Nations Environmental Programme, 'The Champions of the Earth', award in recognition of Bangladesh's far-reaching initiatives in addressing problems induced by climate change.
UNEP executive director Achim Steiner at a gala reception on Sunday evening handed over the award to Sheikh Hasina appreciating her as an inspirational leader since she showed the necessity to work for environment protection and climate change.
The UNEP earlier nominated Sheikh Hasina as one of the winners of its top environmental accolade recognising her policy leadership for combatting the adverse impacts of climate change.
UNEP also honoured four other inspirational environmental leaders conferring upon them the 'Champions of the Earth' Award at a colourful ceremony at Hotel Cipriani Le Specialita in New York, United News of Bangladesh reports.
This year's awards, presided over by United Nations Environment Programme goodwill ambassadors, actor Ian Somerhalder and model Gisele Bündchen, as well as actress Nikki Reed, focused on supporting the newly adopted Sustainable Development Goals.
Prime minister Sheikh Hasina was given the Award in Policy Leadership category for her outstanding leadership on the frontline of climate change. National Geographic Society received the award in Science and Innovation Category for over a century of life-changing science, exploration and storytelling.
Paul Polman, CEO of Unilever was honoured with the Award in the category of Entrepreneurial Vision for challenging business norms to show that sustainable, equitable and environmentally-conscious business is smart business. Natura (Brazilian Cosmetics Firm) was given the award for unparalleled commitment to trailblazing sustainable business models.
And the Black Mamba Anti-Poaching Unit (South Africa) has been given the award in Inspiration and Action category for outstanding courage in fighting the illegal wildlife trade at community level.
National Geographic Society, Unilever CEO, Brazilian Cosmetics Firm 'Natura' and South African 'Black Mamba Anti-Poaching Unit' were the other personality and organisation received the Award.
Receiving the award, Sheikh Hasina said, 'As the world talks about a Common Future for all, we're ready to do our part of commitment to protect and nurture our planet.'
Recognising the adverse impacts of climate change, she said, 'Since 2009, we have been mobilising our own resources and people to address the existential threat. Bangladesh was one of the first in the developing world to set up a 'National Climate Change Fund' with our own resources,'
She said this Award comes as recognition of Bangladesh and its people, its invincible spirit, resilience and innovation. 'On behalf of my people, I accept the Award as a recognition of the values, ethos, culture that drive our people to protect, conserve and utilise nature for sustainable development.'
UNEP executive director Achim Steiner said, 'This weekend, we witnessed a historic moment. 193 nations committed to a sustainable path forward for the entire planet and its peoples through the adoption of the Sustainable Development Goals. This is a major achievement, but the hard work now begins in earnest.'
Finance minister Abul Maal Abul Muhith, foreign minister AH Mahmood Ali, and PM's ICT advisor Sajeeb Wajed were, among others, present on the occasion.
Source: New Age