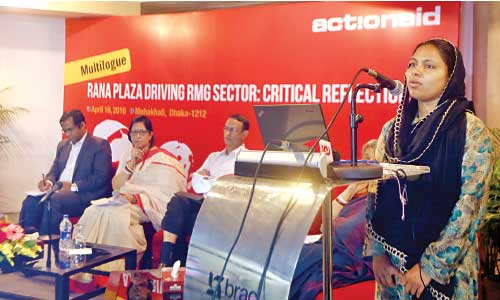 Almost half of the Rana Plaza survivors are still unemployed now, while 58.4 per cent of them are still traumatised three years into the world's deadliest garment-factory accident, according to the report of an ActionAid Bangladesh survey.
ActionAid released the survey report on Saturday at a dialogue on 'Rana Plaza Driving RMG Sector: Critical Reflections of Survivors.' The survey found 14.6 per cent of the 1,300 surveyed survivors said their physical health has deteriorated and named headache, difficulty in movement, pain in hands and legs, and back pain as some of the major problems.
The report showed that the rate of unemployment among the Rana Plaza survivors has decreased in the last three years. The rate of unemployment among them has declined from 55 per cent in 2015 to 48.2 per cent this year.
A large majority of the currently employed survivors are self-employed.
Only 21.4 per cent of them found jobs at the readymade garment factories, while 23.2 per cent were running small business, and 16.8 per cent were working as tailors, the study revealed.
According to the survey, 58.4 per cent of the respondents are still suffering from long-term psychosocial difficulties.
Under the 'Three Years Post Rana Plaza: Changes in the RMG Sector' survey, ActionAid also interviewed 500 kin of the workers killed in the disaster and found that 68.2 per cent of the families have a single -earning member and 22.6 per cent have two earnings members.
Food is the major area of family expenditures of the respondents, as they spend 61.1 per cent of their income for food, 15.5 per cent for house rent, and 12.4 per cent for children's education.
Survivors and kin of the deceased received financial support in phases making them unable to make any considerable savings from that.
In terms of utilisation of the monetary support, 33 per cent of the received money was spent to pay back outstanding loans, 49 per cent for food and treatment, while only 16 per cent to savings and investment, the survey found.
In the survey report, ActionAid recommended incorporating a compensation mechanism that clarifies the calculation criteria and reflects the prevailing socio-economic reality within the national legal framework.
It also suggested strengthening the government departments to continue with factory inspections and to ensure the 'true spirit' of freedom of association.
Nazneen Akter Nazma, a Rana Plaza survivor, in the dialogue questioned the compensation assessment process.
Nazma received Tk 95,000 in three phases as compensation. She is still suffering from headache and deserves more amount as compensation.
Another survivor, Rafiqul Islam said he is passing through a severe hardship.
'I am tired of continuously spending money for treatment though out the last one year,' he said.
Human rights activist Hameeda Hossain, Department of Inspection For Factories and Establishments inspector general Syed Ahmed, International Labour Organisation program manager Tumo Puirtaine, and Alliance for Bangladesh Worker Safety managing director M Rabin, among others, attended the session.
ActionAid Bangladesh country director Farah Kabir moderated the dialogue.
Hameeda Hossain said politicized trade union or trade unions sponsored by factory owners would not bring any positive result for the RMG workers.
'Regarding financial assistance for the Rana Plaza victims, we will have to raise voice to know the actual amount that was deposited in the prime minister's fund for Rana Plaza building collapse,' she said.
Alliance managing director Rabin identified five challenges for making the factories safer in Bangladesh. They are: lack of subcontracting policy, complacency over remediation progress, no progress in relocation of factories, lack of duty-free import of fire equipment support enjoyed by other industries except RMG, and a lack of technical knowhow to oversee factory compliance after 2018, when the agreements of buyers groups would come to close.
Source: New Age