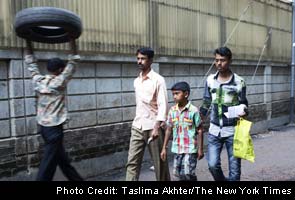 Inside a small government laboratory here, there are about 300 test tubes, each labelled with masking tape and containing an extracted tooth or a shard of bone. Day and night, dozens of these tubes rest on metal trays that vibrate with a motorized monotony. The shaking decalcifies the bone in a process that requires two weeks before material can be gleaned for a DNA profile.
Outside the laboratory, people are waiting. There are at least 301 unidentified victims of last month's horrific collapse of the Rana Plaza factory building. Those test tubes represent the only chance of identifying them.
More than 500 people have given blood samples in the hopes of finding a DNA match. On a recent morning, Hasibul Islam Reaz, 10, placed a spindly arm before a needle, his eyes widening as his blood drained through a thin tube into a syringe.
"If I give them blood," the boy said softly, "I will learn where my father is, which body is his."
First came the frantic search for survivors after Rana Plaza collapsed on April 24. Then came the gruelling recovery of victims, with a death toll now at 1,129, the deadliest disaster in the history of the garment industry.
Now, with the wreckage cleared, the slow, painstaking process of identifying bodies has become a wrenching exercise, bringing accusations of cover-ups, even as many families struggle to find loved ones and qualify for government compensation.
With its venomous politics and blood-soaked history, Bangladesh is rife with conspiracy theories under normal circumstances. In the Rana Plaza collapse, opposition leaders have claimed – without substantiation – that the government has hidden bodies. Activists have accused the government and industry leaders of intentionally stalling promised compensation payments to survivors and families of the dead.
The anger and controversy have intensified the pressure on the small staff of the country's National Forensic DNA Profiling Laboratory. Founded in 2006 with a grant from the Danish Embassy, the lab is now overwhelmed. Completing the DNA profiles could take months. New machines are needed to decalcify the bone samples. Approval is still pending for expensive software capable of sorting through the tens of thousands of possible DNA matches.
"To handle normal situations, the lab is OK," said Sharif Akhteruzzaman, who oversees operations there. "But now a whole year's caseload has come up, all of a sudden."
From the moment Rana Plaza collapsed, the scale of the disaster outstripped the capacities of the Bangladeshi government. In the initial days, as dozens of bodies were being pulled hourly from the wreckage, a nearby high school served as a staging area for thousands of people looking for missing relatives or just gawking. Bodies were placed into plank coffins and sprayed with disinfectant as lines of people walked slowly past.
Shaikh Yusuf Harun, deputy commissioner for the district of Dhaka, said the chaos of the moment inevitably led to confusion – and some mistakes. Initially, 291 bodies could not be identified. Officials have also since discovered that 10 bodies were mistakenly turned over to the wrong families and buried in distant villages.
In three of those cases, families later discovered that their missing relatives were alive, while in the other seven, remains were simply handed over to the wrong people. There are plans to exhume the bodies and take bone or teeth samples.
Some opportunists took advantage of the tumult. With the huge crowds and local reporters pressing forward, officials were sometimes reluctant to challenge someone who claimed a body. In at least two cases, officials handed over bodies as well as initial payments of 20,000 taka, or about $250, to people who pocketed the cash and dumped the corpses at the edge of the school grounds.
"It was a crisis," Harun said. "There could have been a riot. Some officials had to hand over a body."
Prime Minister Sheikh Hasina has announced a compensation package for families of those killed at Rana Plaza that could exceed $12,000, with the money coming from public and private sources. The amount is substantial, given that the minimum wage in the garment industry is $37 a month.
Yet so far only 150 families have received the first instalment of about $1,100, according to Harun, prompting criticism that the government is purposely making it difficult for people to claim the money.
Such disputes over compensation are still dragging on from the fire in November that destroyed the Tazreen Fashions garment factory and killed 112 workers who had been making clothing for brands that included Wal-Mart and Sears.
One problem for families is merely proving that a relative worked in a factory: at Tazreen, just outside Dhaka, the flames that consumed many victims also destroyed their identification tags. And in the Rana Plaza collapse, rumours have swirled of bodies disappearing after being whisked away in trucks, prompting the leader of the political opposition to accuse the government of a cover-up.
"In Rana Plaza, we suspect the death toll is much higher," said Jyotirmoy Barua, a lawyer who has been working with victims of the Tazreen Fashions and Rana Plaza disasters. "The only reason for lowering the number is to lower the compensation."
Such accusations have been sharply rebutted by the government, and many others note that any coordinated effort to hide bodies would have been difficult, given the thousands of people who had rushed to the disaster site, including dozens of journalists filming every development.
"It was not possible," Harun said of the rumours. "It is totally baseless."
One reason for the slow distribution of compensation is that officials say they are struggling in some cases to determine who the rightful claimants are. Most garment workers migrated to the Dhaka region from rural villages. They often supported a spouse and children, and they also sent back money to help their parents.
Now, with the deaths of so many breadwinners, some families are desperate and fighting over the compensation. Harun said one woman, three months' pregnant, lost her husband in the Rana Plaza collapse. She was given his body and his official documents, only to see his parents snatch the documents and make a claim for compensation.
"There are so many cases like this," Harun said. "We need to sort them out individually."
At the DNA laboratory, Akhteruzzaman said his staff needed two or three months to begin making matches. Ordinarily, scientists can collect tissue soon after a victim's death and produce a DNA profile within hours. But most of the bodies from Rana Plaza were recovered days or weeks after the building collapsed, too late to collect usable samples, so bone shards or teeth were taken instead.
Bone must be decalcified before any usable material can be collected, a process that takes two weeks per sample. Usually, the small shaking machines are equipped to handle 15 sample test tubes at a time; now, the test tubes are stacked in groups of 30.
When that process is completed, Akhteruzzaman said, the lab must buy software similar to that used after the attacks on Sept. 11, 2001, with the capacity of sorting through so many possible combinations.
Even then, some victims will probably never be identified. "In every disaster, that is the case," Akhteruzzaman said. "You cannot find all the people."
Hasibul, the boy looking for his father, lives in Magura, a village in the northern tier of the country. In 2011, his father, Asadur Zaman, started working as a security guard at Ether Tex, a fifth-floor garment factory in Rana Plaza. He visited Magura twice a year, and his wife and young son made occasional trips to see him. When the building collapsed, Zaman's family assumed he was inside; one of his responsibilities was to unlock the factory so that workers could enter.
To make a DNA match, officials suggested that either Zaman's mother or father provide a blood sample. But his mother had died recently, and his father had a breakdown after hearing about the building collapse. So Hasibul stepped forward, escorted by his uncle, who said the family's future depended on proving a DNA match.
"Now they have a terrible life," said the uncle, Tariqul Islam. "They have no other source of income. The prime minister announced she would give compensation to all the victims, but if we don't have any official proof, we will not get any compensation."
Source: NDTV