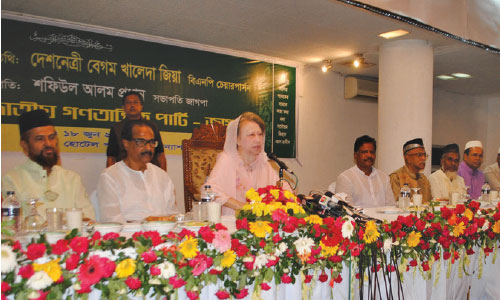 Bangladesh Nationalist Party chairperson Khaleda Zia on Saturday said the government is 'killing criminals in crossfire' to conceal their own involvement.
Addressing an iftar party Khaleda said some criminals are now being nabbed, although it is not clear whether they are real criminals.
'They are taken to jail and then on remand. From remand, the criminals do not return either to jail or to their parents, and are instead directly killed in crossfire,' she said.
'They are put in crossfire because the information they reveal while under remand would implicate the government in these acts,' she said.
Jatiya Ganatantrik Party (JAGPA) hosted the iftar at the Hotel Purbani in the capital.
Khaleda said crimes are taking place regularly but till today, there has not been any trial of a real criminal.
As an example, she said the killers of journalist couple Sagor-Runi have still not been arrested because if the real criminals were caught, the truth about the government's conspiracy and corruption would be revealed.
She said there was important information on the laptop of the journalist couple which was taken away after the murder.
The BNP chairperson said the recent directives of the Supreme Court on the police not arresting anyone in plain clothes, at night and without an arrest warrant, is being ignored.
Khaleda said they (government) do not obey the directives of the court, rather they give the court orders on what to do.
Pointing finger at prime minister, Sheikh Hasina, she questioned whether 'she' was the prime minister of a country or some other kind of 'minister'.
'It is difficult to tell,' she said, adding that people say she (Hasina) is prime minister merely in name, since she carries out directives from others, and therefore cannot be called a prime minister.
She called for unity of all for the sake of restoring democracy.
Khaleda said the key aim of the Liberation War, for which people had fought in 1971, was no longer in people's sights.
Now democracy, justice, equal rights and security are absent in the country, she said.
JAGPA president Shafiul Alam Prodhan also spoke at the iftar party.
Leaders of the BNP-led alliance attended the iftar.
Source: New Age