Govt has no capacity to bargain with India, BNP alleges
Nayadiganta English Desk    16 November 2019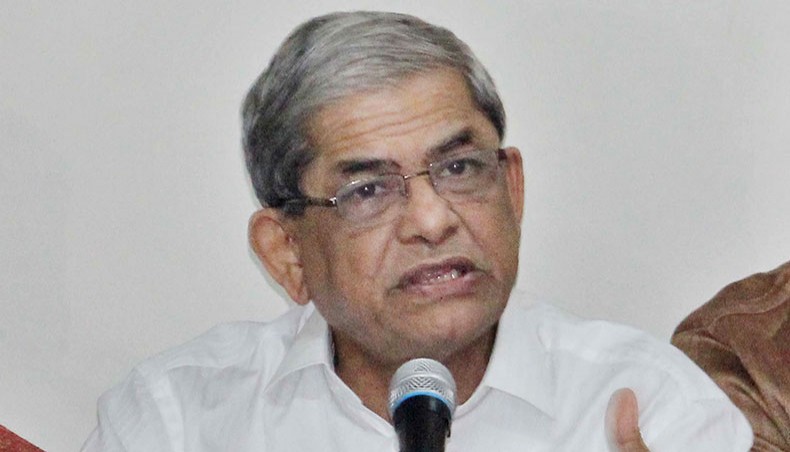 BNP Secretary General Mirza Fakhrul Islam Alamgir on Saturday said Bangladesh's long-pending problems with India could not be resolved as the current government has no bargaining capacity, UNB reports.
"We don't want to talk against India as we've no conflict with that country. The main problem is that now we've such a government in power that has no capacity to talk to India about our problems," he said.
Speaking at a seminar, Fakhrul further said, "The government has no bargaining capacity to address the problems with the India as it always depends on the country to hang on to power. This's the reality."
Association of Engineers, Bangladesh, a pro-BNP platform of engineers, arranged the programme on the possible adverse impact on the country due to the Feni River water withdrawal deal with India at a city hotel.
Fakhrul said people have to realise that the more the current government will stay in power the more Bangladesh's interests will be harmed, and its resources will get depleted.
Stating that the Feni River is Bangladesh's river, not a common one, he said the government is allowing India to withdraw its water.
"The Prime Minister said how she can deny if anyone seeks water for drinking. That's fine. But she didn't say anything about the sufferings of our lakhs of people whose crops and livelihoods are getting destroyed for lack of water from the Teesta River."
The BNP leader said India has long been refusing to give Bangladesh water from the Teesta while the issue of ensuring the fair share of water of other common rivers also remains unresolved.
He said Bangladeshis are getting killed along the border, but the government says the border killing has dropped substantially. "In fact, we don't see any fall in border killing."