Bangladesh 1 – 2 Singapore Nasir Chowdhury-4 – Hameed Newaz-31, Bin Kamal-72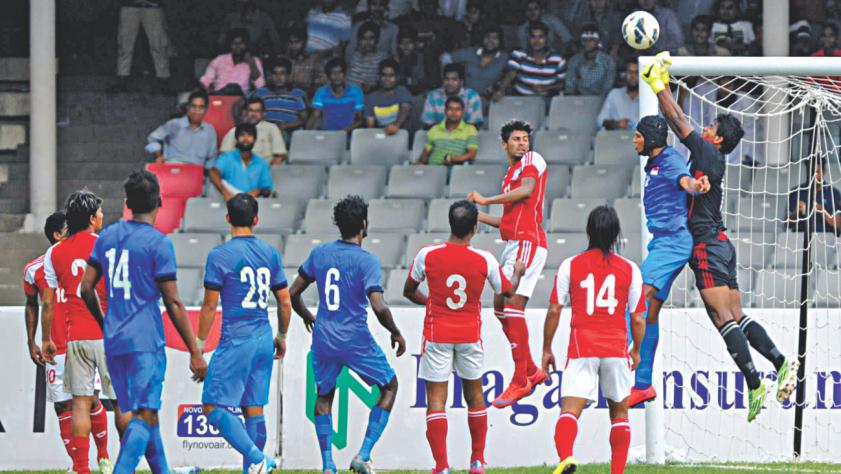 Bangladesh surrendered an early lead to suffer a 2-1 defeat against Singapore in an international friendly between the two nations after a gap of 42 years at the Bangabandhu National Stadium yesterday.
Hameed Newaz canceled a four-minute strike from Nasir Chowdhury on the half-hour mark before MKA Bin Kamal struck the winner in the 72nd minute much to the disappoint of some 5,000 home fans at the 'big bowl'.
While the last meeting of the two teams way back in 1973 produced a 1-1 draw, this game in particular was a build-up for Bangladesh as part of their preparation for joint World Cup and Asian Cup qualifying games against Kyrgyzstan and Tajikistan.
But despite the early lead the game was far from being convincing for the boys of Lodewijk de Kruif as they ran out of gas with the progress of the game and the backline struggled against an opposition that were not as technically sound as anticipated.
Nasir gave the home side an ideal start with a glancing header into the far post from Mamunul Islam's free-kick.
The early advantage put the hosts in pole position to control the game, but they continued to make unnecessary fouls around the danger zone and it resulted in two free-kicks that goalkeeper Mazharul Islam Himel negotiated well.
Singapore, who enjoyed the lion's share of possession, kept attacking down the flanks that exposed the Bangladesh backline time and again.
Abu Sujad ran down the left flank to enter the box before delivering a nice chip for Hameed, who saw his header come off the post but sent the follow-up home with defender Yeasin Khan acting as a mere spectator.
Singapore came close to taking the lead in the 63rd minute but an unmarked Kamal headed wide. He however made amends soon after with a nice over-head chip to silence the home fans. Himel was partly responsible for the goal as his feeble clearance fell to the feet of lurking Kamal on edge of the box.
"Overall, I'm not happy with everybody. Let's say I'm okay with eighty percent of the players. But we have to work on tactics and physique of the players so that everyone can play 90 minutes," said de Kruif at the post match briefing.
"We always start badly but I think we will play better football against Afghanistan as well as in the World Cup qualifiers", said captain Mamumul Islam, whom Singapore's German coach Bernd Stange termed as a very good player.
Bangladesh will play their second friendly against Afghanistan on June 2.
Source: The Daily Star