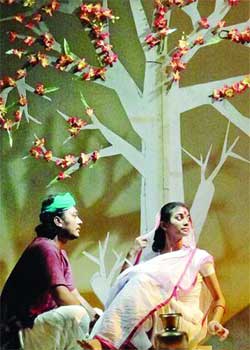 Ganga-Jamuna Theatre Festival, a joint Bangladesh-India cultural programme will begin in the city  on September 1.
Kolkata-based Anik Theatre is organizing the festival in Bangladesh for the third consecutive year since 2012 with a  view to  consolidating cultural relations and facilitating cultural confluence between the cultural activists of Bangladesh and West Bengal of India.
This year, a total of 14 troupes, of which three are from Kolkata and 11 are locally based, will stage plays in the eight-day festival at Shilpakala Academy. Besides, there will be street plays, jatrapala, recitation and music programmes. Every evening, there will be two shows respectively at national Theatre Hall and Experimental Theatre Hall of BSA.
Street plays, recitation and music performances will be held in front of the National Theatre Hall of the academy. The list of plays to be staged includes some of the most acclaimed theatre productions by noted theatre troupes.
On the inaugural day on September 1, Nagarik Natya Sampraday will stage its new production Naamgotrohin at National Theatre Hall, while Theatre and Performance Studies department of Dhaka University will stage Shakespeare's Hamlet, which has recently been one of the most remarkable productions in the theatre arena of the country.
On the second day, Kolkata-based troupe Chupkotha will bring its production Attiya Sajan and local jatra troupe Joyjatra will stage Tipu Sultan. Other plays to be staged in the festival are Nrityanchal's Rai-Krishna Padaboli and Aguntak's much acclaimed Ondhokare Methane on September 3, Aranyak Natyadal's Swapnapothik and Theatre's Payer Awaj Pawa Jay on September 4, Loko Natyadal's Konjush and Jugagni's (Kolkata) Iswar Esechhen on September 5, Prachyanat's Circus Circus and Theatre Art Unit's Amina Sundori on September 6, Dhaka Theatre's Dhaboman and Arindam Natya Sampraday's Kobi on September 7. The last day of the festival will feature local troupe Mohakal Natya Sampraday's Prometheus and Kolkata-based troupe Anik's Ekusher Golpo.
'We got positive responses from the audience, theatre activists and troupes in the last two festivals. We have, therefore, decided to continue arranging the Ganga-Jamuna festival as it gives an opportunity to theatre activists of Bangladesh and West Bengal to come together', said Mir Zahid Hasan, member of the festival organising committee.
Source: Weekly Holiday