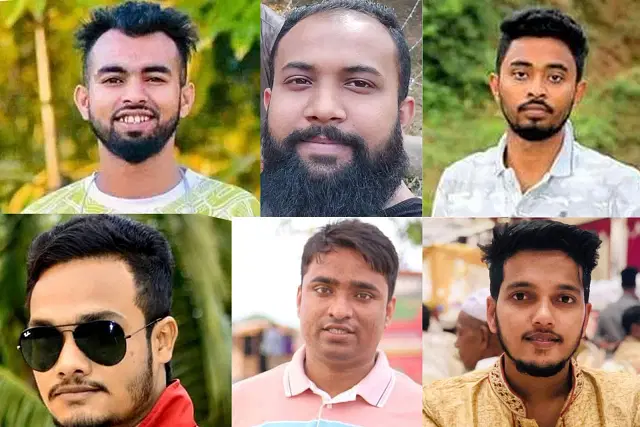 A case has been filed against nine on charges of gang-raping a woman while holding her husband hostage at the MC College (Murari Chand College) hostel in Tilagarh area of Sylhet on Friday night.
The 20-year-old rape victim's husband filed the case with Shah Paran police station on Saturday morning mentioning names of six. All six are known as activists of Bangladesh Chhatra League, the student body of ruling Bangladesh Awami League.
Shah Paran police station officer-in-charge Quayum Chowdhury told Prothom Alo that the the OCC (One-Stop Crisis Centre) of MAG Osmani Medical College Hospital, Sylhet sent the charges to the police station. Later, the case was filed under Children and Women Repression Act.
Six of the accused are — Saidur Rahman, 28, Tarequl Islam, 28, Shah Mahbubur Rahman alias Rony, 25, Arjun Laskar, 25, Rabiul Islam, 25, and Mahfuzur Rahman alias Masum, 25.
Tareq and Rabiul are outsiders while the rest are students of MC College. Besides the six, three unidentified people have also been accused in the case.
The case statement said, the accused asked for 'toll' from the plaintiff (the rape victim's husband) on 25 September. As he did not give the money, the accused took their car near the college hostel's five-storey building of Block 7. They raped the woman and snatched her gold ornaments.
Earlier, around 6:30am on Saturday, police recovered locally-made firearms while raiding the room, known as 'BCL men's room', of the college hostel.
Hostel superintendent Jamal Uddin confirmed the police raid but could not say the why the raid was carried out as the hostel authorities had 'no information' about the matter.
Sylhet Metropolitan Police (SMP) spokesperson and additional deputy commissioner Jyotirmoy Sarker told Prothom Alo that several teams of the police have been working from Friday night on identifying the rapists. A team of police took position at the hostel around 6:30am and recovered the firearms including a pipe gun.
Around six or seven activists of Bangladesh Chhatra League (BCL) allegedly grabbed the 20-year-old woman while she was with her husband in a car and gang-raped her, holding her husband hostage at a college hostel in Tilagarh area of Sylhet on Friday night.
The gruesome incident took place in front of Block 7 of an MC College hostel room that the BCL men occupied since 2012. The hostel was supposed to remain shut amid the coronavirus pandemic.