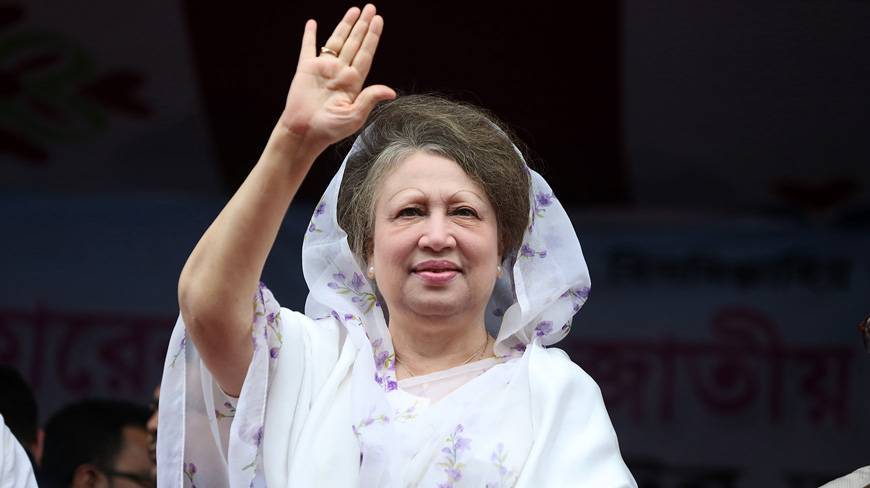 Over the last nine years, the BNP – one of the country's two major political parties – has habitually dealt with its own political failures by taking time off to regroup and reorganise itself. But the much touted – and much needed – reorganisation of the party has never actually taken place. Instead, the party has experienced an unrelenting losing streak, fallen into increasing disarray and turned the word reorganisation into a Cliché in the process. In a series of three stories, the Dhaka Tribune looks into why the party has not been able to put its house in order in nearly a decade. This is the first tranche of the report.
In a rare high-level meeting before Eid, BNP chief Khaleda Zia instructed the party's senior central leaders to go to their areas outside Dhaka and charge up the activists demoralised by state actions.
As of yesterday, only a few senior leaders obeyed that instruction. For them, staying back in Dhaka and attending Khaleda Zia's Eid reception programmes was apparently more important.
Among the members of the standing committee – the highest policymaking body of the BNP – Moudud Ahmad, MK Anwar, ASM Hannan Shah and Abdul Moyeen Khan went to their electoral areas. But none of them stayed for long and hence could do very little to execute the other part of Khaleda Zia's instruction.
Among other senior leaders, M Morshed Khan, Abdullah Al Noman, Amir Khasru Mahmud Chowdhury and Mir Mohammad Nasir also paid similar short visits to their areas. Most other senior and mid-level leaders chose to stay back in Dhaka during the Eid vacations.
Absence of senior leaders in the streets, leaving the field-level activists to face police action during major movements is seen as one of the main reasons why BNP's action programmes have repeatedly failed to bear fruits.
Things seem to have changed very little. During those violent programmes – once towards the end of 2013 and again earlier this year – the senior leaders stayed underground to avoid arrest.
During this Eid-ul-Fitr again, they said they could not stay in their areas for too long in order to avoid arrest and harassment.
Nazrul Islam Khan, a standing committee member, told the Dhaka Tribune yesterday: "Many leaders went to their constituencies following Khaleda Zia's instructions. But many others could not go because of the cases filed against them and fearing harassment."
BNP's senior leadership choosing not to play their pro-people roles has had the same results once again.
Just as the last two major movements faded away, the BNP's organisational activities at the district and upazila levels have come to a standstill because senior leaders prefer to stay in Dhaka and most mid- and grassroots-level leaders are either in jail or have gone underground in the face hundreds of political cases.
In recent months, especially after the party retracted from the three-month violent street movement in April, no senior leaders have appeared in any television talk shows either.
At a time when every other talk show has at least one senior leader from the ruling Awami League, only a handful of pro-BNP professionals – mainly lawyers, journalists and university teachers – are left to speak on behalf of the party.
Even a year ago, almost all senior leaders used to attend five to six round-tables, discussions and seminars in Dhaka every day. But now, even that has come down to zero.
In recent times, BNP's activities in the capital city have been limited to organising press conferences and issuing press releases whenever there is an issue.
The Dhaka Tribune has talked to several local leaders based in Dinajpur and Bogra districts – generally known as BNP's strongholds.
Lutfur Rahman Mintu, president of Dinajpur district unit BNP, said: "We do not have any political activities right now. Party leaders and activists come to the office and gossip. Apart from these, we observe the important national days and dates important to the party. We are waiting for directives from the central high command."
Asked why there is no activities, Mintu said: "A big storm has just passed us. Many of our leaders and activists are still in jail. Some are getting bail. I cannot say why there is no political activities right now. Central leaders could tell you better."
Saiful Islam, president of Bogra district unit BNP, told the Dhaka Tribune yesterday: "Now we do not have any work as everyone is still in vacation mood. During Ramadan, we held a series of iftars. Apart from this, there are some internal day-to-day work"
Asked what the internal work are, Saiful said: "Internal activities cannot be disclosed to the media."
Asked when the district leaders held the last meeting, Saiful said: "Before the death anniversary of party founder Ziaur Rahman, we sat and chalked out a 20-day programme."
However, seeking anonymity, an activist of the party's Bogra unit said: "There is no internal activities – what would he tell you? Everybody is underground. The central leaders do not want to come here."
Source: Dhaka Tribune