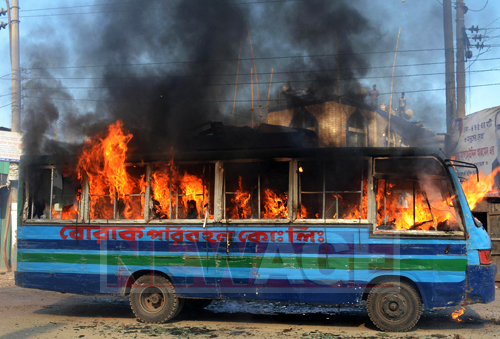 Bangladesh Nationalist Party-led alliance called another round of 72-hour general strike across the country from 6:00am Sunday to be coupled with ongoing nationwide non-stop transport blockade.
In a press statement, BNP joint secretary general Barkatullah Bulu, announced the shutdown from 6:00am Sunday to 6:00am Wednesday.
The strike was registered protesting against enforced disappearance, killing, repression, abduction, placing into remand unjustly of the party-led alliance's leaders and activists, the statement said.
The statement also cites that the fresh hartal was aimed at protesting against the arrest of another joint secretary general Salahuddin Ahmed. It also demanded his release.
The announcement of the fresh spell of strike came a day after BNP chairperson Khaleda Zia put forward a three-point demand, including an immediate dialogue for holding a fair and inclusive election under a 'government acceptable to all' to resolve prevailing crisis.
In a news conference at her Gulshan office, Khaleda said the current movement programmes would continue until it reached a 'logical conclusion' as the ruling party had taken no initiatives to normalise the present 'suffocating' situation.
The former prime minister had enforced the indefinite blockade from January 6 after having failed to come out of her Gulshan office on January 5 to join a planned rally of the her party-led alliance in the city to mark 'Democracy Killing Day'.