Amid the charred ruins, Abdul Jalil, a teacher of a Madrasa in Dhaka's Karwan Bazar, sits with a bundle of burnt currency notes.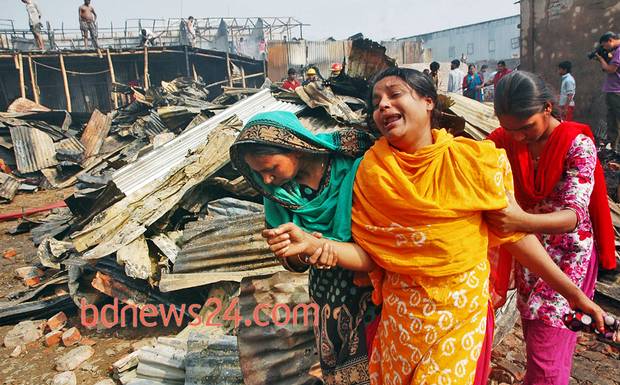 He has been living with his family that includes three daughters at Madhubagh slum at Mogbazar for the last 20 years.
He has been divested of everything by a fire that broke out at the slum on Saturday morning.
Over 100 families living in the slum lost all of their possessions to the hungry flame.
Asked about the burnt currency notes, he told bdnews24.com: "I have recently paid an advance for a piece of land in Rangpur.
"I also managed Tk 80,000 with much difficulty to make the remaining payment. I thought I would soon own land in my locality. But now all is lost to the fire," he said, tears rolling down his cheeks.
Jalil earned his living by teaching Arabic language at an Ibtedayee Madrasa and giving private tuition to local children.
Fire servicemen said the fire broke out at 8:15am. They reached the spot soon after getting information and managed to douse the flame after two hours.
Mohammad Ali, an on-duty officer at the fire brigade control room, told bdnews24.com that they put into service 13 units.
Ramna Police Station's OC Mashiur Rahman said all the shanties inside the slum were reduced to ashes. A three-year-old, who was sleeping in a room, died in the fire.
Morzina Begum, deceased Sabuj's mother, works as a maid at a Moghbazar house and her husband is a day-labourer.
She had gone to work, leaving Sabuj to her seven-year-old daughter Santhi. As fire caught the slum, Santhi ran out of the house, leaving behind her brother.
Hasina Begum, another maid, rushed back on hearing the news of the fire.
"I came back running, the moment I came to know about the fire fearing that I have lost my daughter."
Hasina had gone out along with her rickshaw puller husband in the morning.
She cried in joys after finding her daughter Barsha unharmed.
She said crying, "Brother, all my belongings, including cot, almirah and television set, have been bunt to ashes. But my daughter is unscathed. This is my consolation."
Tania Begum, 22, was standing holding a tin-almirah beside the burnt slum. She worked at the sewing section of the Jeans Garments, located beside Hazaribagh Petrol Pump.
Along with her husband Dablu, she rented a house at the slum for Tk 1,500 per month a few months ago.
"As we set up a new house, we bought a lot of new things. But the fire destroyed them all."
Over 300 people used to live in this slum, made up of bamboo, wood and corrugated iron sheets. Losing their houses to the fire, many of them now have to live under the open sky in this chilly month of Magh.
OC Rahman said a rickshaw garage has also been burnt down.
Disaster and Relief Minister Mofazzal Hossain Chowdhury Maya and State Minister for Home Asaduzzaman Khan visited the spot.
Every affected family will get Tk 3,000 and 20 kilograms of rice while the family of the deceased child will be given a compensation of Tk 20,000, said Maya.
Source: bdnews24