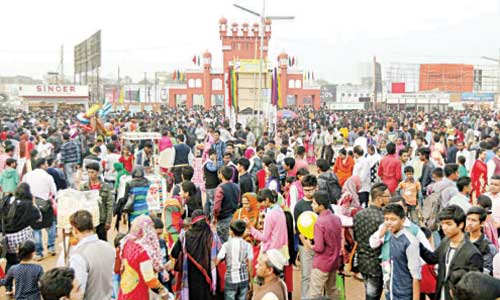 The month-long Dhaka International Trade Fair 2016 ended on Sunday with a robust growth of spot export orders to Tk 235.17crore from Tk 95 crore in the year of 2015, a growth of 147.54 per cent.
At the closing ceremony of the DITF at Sher-e-Bangla Nagar in the city, commerce minister Tofail Ahmed said that increasing spot orders by Tk 140 crore from the previous year proved that the month-long trade fair was successful.
He said that products worth Tk 121.47 crore were sold in the fair this year which is Tk 71.02 crore higher that the amount of previous year.
The fair received spot orders on the products of electronics and home appliances, diversified jute products, processed food, cookeries, handicrafts and home textile.
'Despite challenges, we are moving faster and the global study found Bangladesh will be in the front line of economic growth performers,' Tofail said.
He said that the incumbent government believes that trade and business are the driving force of country's economy and the government provides all out support to the business community.
The DITF has become a national trade festival and the event highlights the positive image of Bangladesh to the globe through quality products, the commerce minister said.
Responding to a proposal from the FBCCI, Tofail said that the government would consider arranging the fair under private public partnership in future.
The Federation of Bangladesh Chambers of Commerce and Industry president Matlub Ahmad also proposed to arrange international trade fairs at the divisional level.
Tajul Islam Chowdhury, chairman of the Parliamentary Standing Committee on the Ministry of Commerce, commerce secretary
Hedayetullah Al Mamoon and Mafruha Sultana, vice-chairman of the Export Promotion Bureau spoke at the function.  A total of 22 countries including Bangladesh, India, Pakistan, China, Malaysia, Iran, Thailand, USA, Turkey, Singapore, Australia, UK, South Korea, Germany and UAE took part in the fair and showcased a wide range of products at 111 pavilions, 57 mini pavilions, 80 premier pavilions and 276 stalls.
Source: New Age