PMO says Kamal was inactive; the senior lawyer says he did his best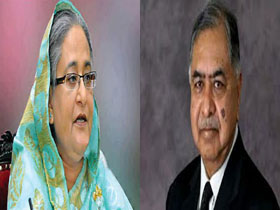 Gonoforum President Dr Kamal Hossain's law firm yesterday sent a rejoinder to the Dhaka Tribune protesting a remark by Prime Minister Sheikh Hasina that he had not helped her after the assassination of Bangabandhu Sheikh Mujibur Rahman.
After the Dhaka Tribune published the rejoinder on its website, the Prime Minister's Office (PMO) sent a counter-statement saying what Dr Kamal's firm said was an "ill attempt at forging truth and distorting history."
With reference to a May 18 UNB news report published in some newspapers, Dr Kamal Hossain & Associate's rejoinder quoted the PM as saying in a programme: "When the father of the nation was assassinated, his foreign minister [Dr Kamal] was also in West Germany, but he neither helped me nor my sister Sheikh Rehana after August 15, 1975…Even he did not respond to Sheikh Rehana's repeated requests to arrange a press conference."
Dr Kamal's rejoinder said the PM's comment could lead to a "misreading, and indeed attempted rewriting of history."
On August 15, 1975, Dr Kamal Hossain, foreign minister of the Bangabandhu cabinet, was wrapping up a state tour in the erstwhile Yugoslavia when he got the news of the murder. Kamal's firm claimed that he had discussed the issue of political asylum for Hasina and Rehana with the then Yugoslav government.
It also said instead of returning to Dhaka, Kamal, after getting the news of the assassination, flew to Bonn in Germany "precisely in order to meet Sheikh Hasina and Sheikh Rehana who were at that time visiting the city and had been given shelter to Ambassador Humayun Rashid Chowdhury."
However, the PMO rejoinder alleged that Dr Kamal had not told them anything about his discussion with the Yugoslav government. It also doubted Kamal's claim saying: "Bangabandhu was killed on August 15. He [Kamal] came to Germany on August 16. Then when did he hold talks with the Yugoslav government?"
It further said organising a press conference right there in Germany protesting the killing was Dr Kamal's duty as the then foreign minister. "Instead, he avoided his duty and looked for safety; he preferred his own interests to the country's," the PMO said.
The PMO also praised late Humayun Rashid Chowdhury, who was also a speaker of parliament, for showing "immense courage by arranging a press conference with Bangabandhu's daughters Sheikh Hasina and Sheikh Rehana."
Dr Kamal's rejoinder explained his 1975-81 role saying: "…Dr Hossain refused repeatedly to join the new government that had seized power in Dhaka. He stayed back in the UK for the next six years during which time he attended numerous public meetings in the UK to protest Bangabandhu's assassination including arranging a meeting in the House of Commons in the British Parliament which was attended by Sheikh Hasina and Sheikh Rehana."
The rejoinder mentioned the formation of a three-member enquiry committee at that meeting in November 1975 comprising British lawmakers Tom Williams and Shawn McBride.
On the other hand, the PMO statement said Sheikh Hasina went to London in 1980 and started working for forming a probe commission. The rejoinder praised some leaders for helping in finally being able to form the commission comprising of the two same British lawmakers that Dr Kamal had mentioned in his rejoinder.
The PMO also blamed Kamal for not being active in protesting the brutal killing despite being repeatedly requested by senior Awami League leaders. "Although it was easy for him to protest the brutal murder and building world opinion because he was safe outside the country" after Bangabandhu's murder.
It also slammed Kamal for not publishing any statement in newspapers or delivering any speech protesting the killing in the following five years.
Kamal's statement said from 1975-81, he was in "regular touch with Sheikh Hasina and Sheikh Rehana and knew their families well."
After his return to Bangladesh in 1981, Kamal said he "visited New Delhi along with other Awami League leaders to encourage Sheikh Hasina to return to Bangladesh and was at the airport to welcome her and on stage with her at her homecoming ceremony."
The PMO statement termed Kamal's visit to New Delhi as a display of "fake loyalty" and questioned his "controversial" role when Sheikh Hasina was elected chief of the Awami League.
It also said that it was due to Sheikh Hasina's kindness that Dr Kamal was nominated as the Awami League candidate in the 1981 presidential election.
"During election campaign, Bangabandhu's daughter Sheikh Hasina risked her life to hold rallies at the remotest corners of the country in favour of Dr Kamal Hossain. In reply, Dr Kamal Hossain broke away from Bangabandhu's Awami League and attacked his daughter and his party with indecent words."
The rejoinder from Kamal's law firm quoted extensive sections of a book written by Kamal to explain his role after 1975.
The PMO said "although it may be possible to cover up truth for a period, truth will eventually triumph."
Rahman Ali Sikder, Dr Kamal's partner in the law firm, signed their rejoinder while the PMO statement was signed by the PM's Special Assistant Mahbubul Haque Shakil.
Source: Dhaka Tribune